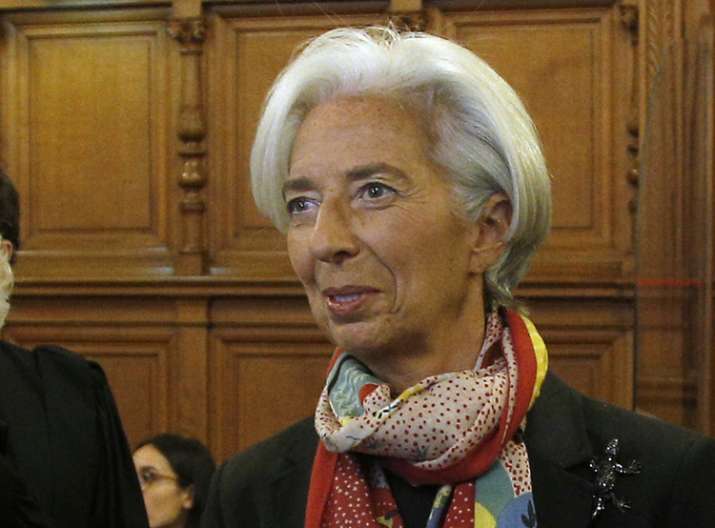 A special French court has found International Monetary Fund (IMF) chief Christine Lagarde guilty of criminal negligence in a long-running arbitration case.
However, the court decided not to punish her or give her a criminal record. 
The Court of Justice of the Republic ruled that her negligence while serving as Finance minister allowed for the misappropriation of funds by other people. The others, in a separate case, haven't yet been tried. 
The case revolves around a 403 million-euro ($425 million) arbitration deal given to tycoon Bernard Tapie in 2008 over the botched sale of sportswear maker Adidas in the 1990s. The amount prompted indignation. 
Throughout the trial, Lagarde maintained that she was innocent.  
Lagarde, who began her second five-year term as the managing director of the IMF, told the court she does "not feel guilty of any negligence whatsoever" and that she "acted in conscience and confidence, in the general interest of public affairs." 
Investigators suspect the process was rigged in favor of Tapie, a business magnate with close connections with political circles, including then-President Nicolas Sarkozy. 
Civil courts have since quashed the unusually generous award, declared the arbitration process and deal fraudulent and ordered Tapie to pay the money back. 
Lagarde is accused of "serious negligence" that allegedly allowed other people in the case to commit a suspected major misappropriation of public funds. 
Lagarde's conviction may raise concern about her ability to remain the head of the IMF. The Washington-based institution's credibility was already shaken when her predecessor, Dominique Strauss-Kahn, also a French citizen, was forced to resign when he was accused of having sexually assaulted a maid in a New York City hotel. 
The IMF's board has so far supported Lagarde at all stages of the French legal proceedings, which began the month after her appointment in July 2011. 
Lagarde, the first woman to become finance minister of a Group of Eight country and to be appointed IMF chief, has said she is taking time off her job during her trial.
Soon after the guilty verdict, a spokesman for the IMF said after the that its executive board is expected to meet soon.
"The Executive Board has met on previous occasions to consider developments related to the legal proceedings in France. It is expected that the Board will meet again shortly to consider the most recent developments," IMF spokesman Gerry Rice said in a statement. 
A lawyer for Lagarde, however, refused to speculate on any effect the guilty verdict in a French case may have on her career.
Christopher Baker, one of her lawyers, told The Associated Press that "there is no sentence, which means there's no record of this."
The case began in 2011 and Baker said "the result of this last five years is nothing, which leaves us in kind of a complicated and strange situation."