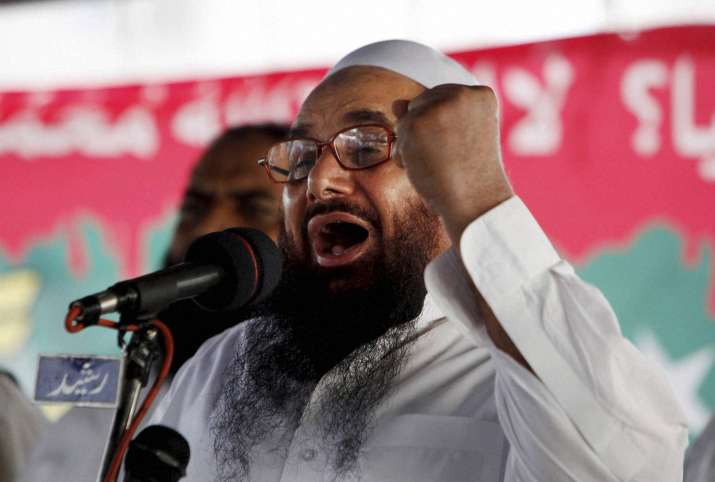 Afghanistan has alleged that Hafiz Saeed, the chief of dreaded terrorist organisation Lashkar-e-Taiba, is leading Islamic State's operations in the war-torn country.
According to a report in the Voice of America, Afghan officials have told their Pakistani counterparts during a meeting that "currently former leader of Lashker-e-Taiba (LeT), Hafiz Saeed, is managing activities" of Islamic State in Afghanistan, an Afghan defense ministry said.
Hafiz Saeed is one of the most wanted terrorists by India as well as United States of America. Saeed is the founder of LeT and is wanted in India for allegedly plotting terrorist attacks on its soil, including the 2008 Mumbai raids that killed 166 people. He is also suspected of a number of other terror activities in India, dominantly in Jammu and Kashmir.
The US has a $10 million bounty for information leading to Saeed's arrest and says he has ties to al-Qaida. He currently lives in Lahore in a fortified compound and roams free in the country despite repeated demand by Indian authorities.
The statement by Afghan defense ministry, however, created confusion in Pakistan as officials tried to determine whether Afghan officials were confusing the internationally-wanted terrorist with an IS commander who is his namesake.
The head of Islamic State's local branch in Afghanistan and Pakistan, Islamic State of Khorasan Province (ISKP), is also named Hafiz Saeed Khan.  
Hafiz Saeed Khan is a former member of the Pakistani Taliban and reports of his death in U.S. drone strikes have regularly appeared in Afghan and regional media.
The allegations by Afghan officials were made during a high-level military meeting in Kabul on Tuesday with their Pakistani counterparts, as well as NATO commanders, to discuss border security.
The Afghan side called on Islamabad to prevent IS terrorists from entering Afghanistan and harming its people, it said.
The meeting came in the backdrop of three suicide bombings by ISIS that stuck Afghan capital Kabul on July 24 which killed at least 80 people ad injured 200 others.
The attack was the deadliest to hit Kabul in 15 years of civil war.
It struck a demonstration by Afghanistan's Hazara ethnic community, who were marching for a major regional power line to be routed through their home province.