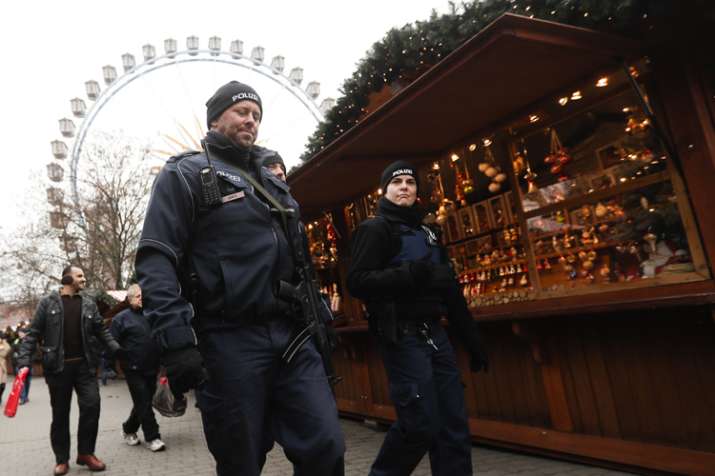 German investigators are hunting for a Tunisian man whose documents were found in the truck that plowed into a Christmas market in Berlin, killing 12 people and injuring 48 others, local media reported.
The man is aged 21 or 23 and known by three different names, according local newspapers. Reports said that asylum office papers believed to belong to the man were found in the cab of the truck.
The Islamic State group has claimed responsibility for Monday's attack on the market next to the Kaiser Wilhelm Memorial Church in the center of the capital.
Soon after, police arrested a Pakistani man found about a kilometer (0.6 miles) from the market who matched witness descriptions of the truck's driver, but they released him the next day, saying they did not have evidence tying him to the attack.
Several German media outlets reported Wednesday, without identifying their sources, that authorities were searching for a Tunisian man whose identification documents were found under the driver's seat of the 40-tonne lorry that barrelled through the Christmas market in the heart of the German capital.
He was named as either Ahmed or Anis A., though he reportedly used various aliases.
Police in Berlin said they had received 508 tips on the attack as of Tuesday night, but there was no immediate word from prosecutors on whether they had any concrete leads. They also did not say if they were looking for more than one suspect.
Spokesmen for the Tunisian Interior Ministry and Foreign Ministry did not have information about the possible suspect and could not immediately confirm whether the Tunisian government had been contacted by German authorities.
Suspect was reportedly born in the southern Tunisian city of Tataouine, in the western state of North Rhine-Westphalia.
The claim of responsibility carried on the IS group's Amaq news agency did not identify the man seen fleeing from the truck, but described him as "a soldier of the Islamic State" who "carried out the attack in response to calls for targeting citizens of the Crusader coalition."
The attack revived the memories of the July 14 truck assault in the French Riviera city of Nice, where 86 people were killed by a Tunisian Islamist.
Germany's top prosecutor, Peter Frank, told reporters before the claim that the attack was reminiscent of July's deadly truck rampage in Nice and appeared to follow instructions published by IS.
"We don't know for sure whether it was one or several perpetrators," he said. "We don't know for sure whether he, or they, had support."
Berlin Mayor Michael Mueller said Wednesday it was "good to see that Berliners aren't being intimidated."
"I don't think there's any need to be afraid," he told ZDF television. "The police presence has been significantly heightened ... and of course other measures taken to find the perpetrator quickly."
Mueller argued that there are limits to increasing security, given the number of public spaces and events.
"It wouldn't be our free and open life any more if we escalated security measures so much that people worry about going anywhere, that there are strict entry checks," he said. "We don't want that. It must be appropriate and goal-oriented."
Referring to security measures, he added: "A lot has happened, and more certainly will."
(With AP inputs)