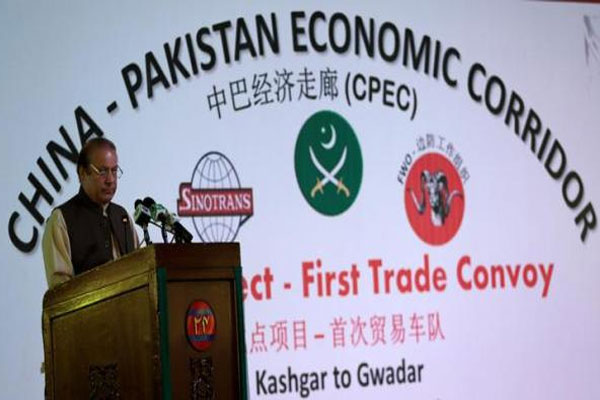 Days after Pakistan made details of the China-Pakistan Economic Corridor (CPEC) public, the writer of the largest local English newspaper in Pakistan warned on Friday that the CPEC, which has earned the ire of India, has "some very worrying aspects" for their country.
Staff writer Nadir Hassan said in The News International that the corridor project might go beyond economics "and will lead to the type of control over Pakistan that the US exerted post 9/11 and even before that".
According to Hassan, handing over the responsibility for installing surveillance systems in major cities (other than Lahore) for security reasons to China, brings an additional threat.
Hassan said China had less commitment to online freedom than most countries "and giving it control of our optic fibre network is dangerous given the Chinese government's propensity for hacking".
He alleged that just in the name of development and economic growth, Pakistan us agreeing to everything what China was saying.
"The long-term plan calls for Chinese nationals to be allowed visa-free travel to Pakistan without a reciprocal facility being granted to Pakistani citizens," he said.
The writer said Punjab Chief Minister Shahbaz Sharif's claim that China doesn't seek any price for its aid was misleading.
"The contracts for CPEC projects were given to the Chinese without any bidding. The capital expenditures required for these projects were made mainly through loans by China." he adds.
Further he writes that people do have idea about the amount of loans and due bills, and that is benefitting Pakistan but claiming that China is doing everything without extracting any benefits from the deal is simply untrue.
Hassan said: "Pakistan has little option but to submit to Chinese domination. Our relations with our other neighbours are all but non-existent."
He said the Pakistan-China relationship had been sustained because Beijing sees New Delhi as a regional rival. "Hence through CPEC China wants to show its dominance and power not only in the region but in the world.
"The OBOR summit in Beijing showed that CPEC is just one part of a larger Chinese gambit to become the next superpower. ", he adds.
India has come out strongly against the CPEC, saying it runs through Pakistan-administered Kashmir which it claims is its territory.
(IANS Inputs)