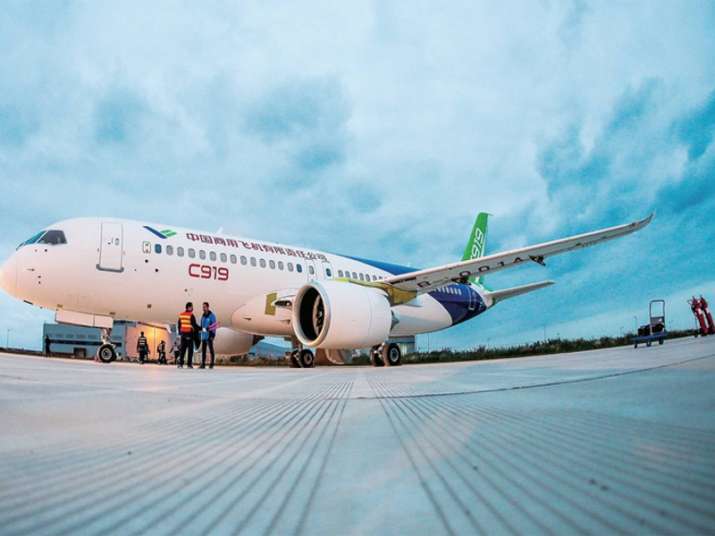 China achieved a milestone by breaking into Western-dominated aircraft market, as its first large passenger Jetliner completes its maiden flight on Friday.
The C919 took off from Shanghai Airport amid huge cheers and applause from hundreds of guests, and landed after one and a half hours of flying in the polluted sky. The test pilots came down smiling from the plane, wearing orange overalls with the Chinese flag. The whole event was broadcast live by the media.
With the flight, the official Xinhua News Agency said China had become "one of the world's top makers of jumbo aircraft," becoming the 4th Large Jet producer after the U.S., Europe and Russia.
China is touting the C919 as a rival to single-aisle jets such as the Airbus A320 and Boeing 737. It was originally due to begin flying in 2014 and be delivered to buyers in 2016, but has been beset by delays blamed on manufacturing problems. It's now unlikely to carry commercial passengers until at least 2019.
The aircraft maker, state-owned Commercial Aircraft Corp. of China Ltd., or Comac, will seek certification from China's civil aviation authority and foreign regulators before making any deliveries. 
The manufacturers have planned to make two planes a year from now to 2019 to obtain proof of safe flight before any mass production is started. As they claim to have 570 orders from 23 customers, mostly state-owned Chinese airlines.
The plane can be configured with 155-175 seats and has a standard flight length of 4,075 kms.
However major part of it still relies on foreign-made technology for critical systems, including its engines.
The first deliveries of Chinese-developed engines are expected in 2020, according to the company tasked with making them, AVIC Commercial Aircraft Engine Co. Ltd.
Airbus delivered 153 aircraft to Chinese operators last year, including 141 from the A320 family, Eric Chen, president of Airbus Commercial Aircraft China, said in an emailed statement. "We believe C919 will bring new competition to the market," he said. "And we welcome competition, which is good for the development of the industry."
The jet's development is a key step on the path laid out by Chinese leaders to transform the country from the world's low-cost factory into a creator of profitable technology.
(With AP inputs)