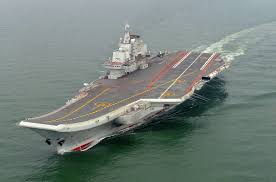 Days after China's sole aircraft carrier passed a mere 90 nautical miles south of the island of neighbouring Taiwan amid renewed tensions between China and Taiwan, the Chinese Navy today said the aircraft carrier conducted drills in the South China Sea on Monday.  
Chinese officials have claimed that it was a routine drill in compliance with international laws.
The Russia-built Liaoning aircraft carrier and accompanying warships sailed round the east coast of Taiwan.

According to the People's Liberation Army Navy's microblog, the carrier's J-15 fighters conducted flight exercises in "complex sea conditions" on Monday. The carrier group also ran helicopter exercises, it added, without disclosing the exact location of the exercise.  
China maintains its claim to the whole of South China Sea through which about $5 trillion worth of ship-borne trade takes place. It's neighbours Brunei, Malaysia, the Philippines, Taiwan and Vietnam also have claims.

The drills come at a delicate time, especially in terms of its dispute with Taiwan which Beijing claims as its own. President-elect Donald Trump's telephone call to the island's president, which is a deviation from the U.S.'s decade long One-China Policy, has further upset China.
China considers Taiwan to be a Chinese province and does not recognise it as a separate entity.

Taiwan's defence ministry on December 26 said the Liaoning and five accompanying ships had entered the top half of the South China Sea after passing south of Taiwan, and later docked at a base on China's Hainan island.
The flotilla raised alarm in Japan when it steamed between the Japanese islands of Miyako and Okinawa.
Japan said one of its maritime self defence force ships and a P3C patrol aircraft had spotted six Chinese naval vessels including the Liaoning travelling through the passage, and they also scrambled jets after a helicopter which took off from a Chinese frigate flew near Miyako Island.