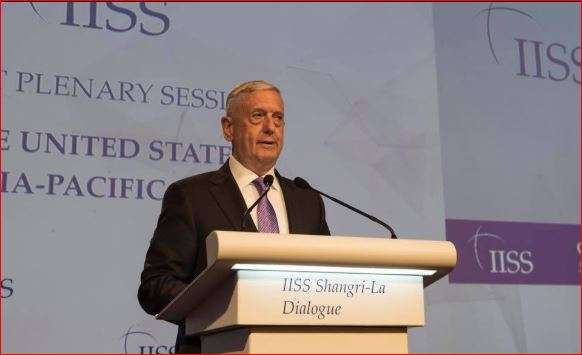 US Defence Secretary James Mattis on Saturday alleged that China was deploying missiles in the disputed South China Sea to "intimidate and coerce" its neighbours.
Speaking at the Shangri-La Dialogue in Singapore, Mattis said that Washington does not plan to abandon its role in the region.
"Make no mistake: America is in the Indo-Pacific to stay. This is our priority theatre," Mattis said.
The US defence secretary said that Beijing had deployed military hardware including anti-ship missiles, surface-to-air missiles and electronic jammers to locations across the South China Sea, home to some of the world's busiest sea lanes.
Despite China's claims to the contrary, the placement of these weapon systems is tied directly to military use for the purposes of intimidation and coercion," Mattis said.
"We are aware China will face an array of challenges and opportunities in coming years, we are prepared to support China's choices if they promote long-term peace and prosperity for all in this dynamic region. Yet China's policy in the South China Sea stands in stark contrast to the openness our strategy promotes. It calls into question China's broader goals," he added.
However, a Chinese military official dismissed the comments as "irresponsible".
The South China Sea, a key trade route, is subject to overlapping claims by China, Vietnam, the Philippines, Malaysia, Taiwan and Brunei. Tensions increased in recent years and China has backed its claim with island-building and patrols.
In May, China said it had for the first time landed bombers on Woody Island in the Paracel Islands, prompting US warnings that it was destabilising the region.
Talking about the upcoming summit between US President Donald Trump and North Korean leader Kim Jong-un, Mattis said that the issue of US troops in South Korea was "not on the table" at the June 12 meet.
(With IANS inputs)