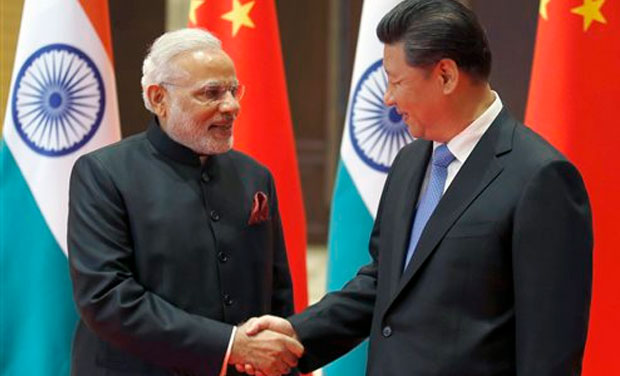 China has asked India to 'respect its concerns' ahead of Prime Minister's three-day visit to Japan.
Talking to media persons, Lu Kang, spokesperson of Chinese Foreign Ministry, expressed hope that both PM Modi and Japanese premier Shinzo Abe will respect the legitimate concerns of their neighbours.
"We have no problem with our neighbours developing normal relations. We hope that when they develop their relationships they can respect legitimate concerns of their neighbours and contribute to regional peace and stability," he said. 
PM Modi today left for a three-day visit to Japan and is expected to land in Tokyo this evening.
China had previously expressed concern on the deal for US-2 Shinmaywa amphibious aircraft that was supposed to be finalised during PM Modi's visit.
Asked about the deal, Lu Kang said he would not comment on "speculations".
Meanwhile, India has deferred the proposal to acquire 12 amphibious aircraft from Japan for the Indian Navy.
A day before PM Modi's departure, the state-run Chinese media warned Delhi against "seeking support" from Tokyo on censuring China on its moves in the South China Sea.
 
"India won't benefit much by balancing China through Japan. It will only lead to more mistrust between New Delhi and Beijing," an article in the hawkish Global Times said. 
The article also warned that India runs the risk of suffering 'great losses' if it becomes a pawn of the United States in the disputes of South China Sea region.
"India should beware of the possibility that by becoming embroiled in the disputes, it might end up being a pawn of the US and suffer great losses, especially in terms of business and trade, from China," an article in the state-run 'Global times' said. 
The article alleges that India, miffed over China blocking its entry into Nuclear Suppliers Group (NSG), is seeking support from Tokyo to issue a joint statement during Prime Minister Narendra Modi's visit to Japan next week asking China to abide by the controversial South China Sea arbitration order.
"India and China should put more efforts into resolving problems like the imbalance of their trade ties. India won't benefit much by balancing China through Japan. It will only lead to more mistrust between New Delhi and Beijing," it added.
The article accuses India of not feeling at ease with China despite admiring its economic take-off and warned that India's wariness could drive it to make mistakes in its China policy.
 "India knows that it is not yet qualified for membership in the NSG, according to the organization's rules. China's decision was simply a fulfilment of its international duties. It is preposterous for Indian media and government to scapegoat China as a troublemaker, and seek revenge by making more troubles," the article said. 
"As a non-claimant to the South China Sea and an outsider that has no traditional influence on the region, India has been paying keen attention to any activity, because the country has adopted a "Look East" foreign policy since Modi took office. India, however, seems to have overestimated its leverage in the region. Although China's major rivals in the dispute, such as the US and Japan, have been trying to draw India into their camp, the country will be likely regarded as having a token role," it added.