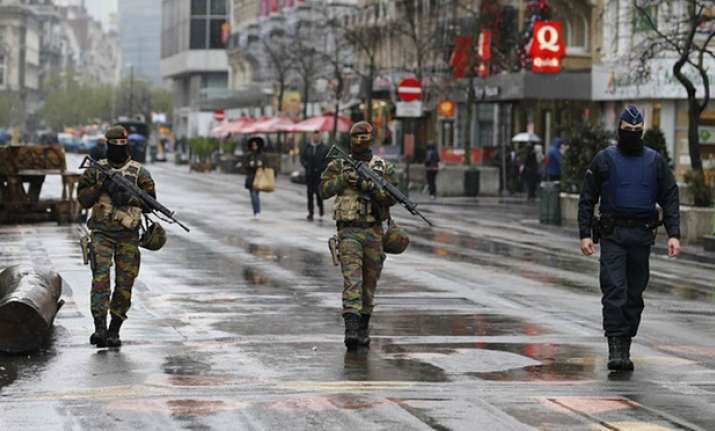 Brussels: In a series of police operations, six people were arrested in the Belgium capital on Thursday following the dreaded terror attacks that rocked the entire city, the federal prosecutors' office said.
Police conducted several raids in Jette and Schaerbeek in Brussels-Capital Region, the office said in a statement.
Eric Van der Sypt, in the city centre spokesman, said, "Three of the suspects were detained yesterday outside the door of the federal prosecutor's office. It will be decided tomorrow if an arrest warrant (charges) are brought against these people."
At least 34 people were reported killed and over 140 injured in a string of explosions that rocked the Belgian capital of Brussels on Tuesday morning. The apparently coordinated attacks come four days after Salah Abdaslam, a prime suspect in the November 13 Paris attacks, was captured alive from Brussels.
Later that day, militant organisation Islamic State (ISIS) had claimed responsibility for the ghastly attacks, a news agency affiliated with the group said. "Islamic State fighters carried out a series of bombings with explosive belts and devices on Tuesday, targeting an airport and a central metro station in the center of the Belgian capital Brussels," AMAQ agency was quoted as saying by the Associated Press.
Belgium had been on its highest alert ever since Tuesday's bombings in the Brussels airport and subway that killed 31 people and wounded 270.
"We don't have to be proud about what happened," justice minister Koen Geens said of the government's failures to halt the attacks. "We perhaps did things we should not have done."
Meanwhile,authorities lowered Belgium's terror-threat level by one notch, although they said the situation remained grave and another attack is "likely and possible."
Earlier, Belgium's prime minister refused to accept the resignations of his justice and interior ministers Thursday despite increasing evidence of intelligence and law enforcement failures to prevent this week's suicide bombings by Islamic militants.
With at least one attacker at large and an unknown number of accomplices, police detained six people in raids around the Belgian capital Thursday night. In a Paris suburb, a man suspected of plotting an imminent attack was also detained Thursday, but the interior minister reported no apparent link with the Brussels airport and subway bombings or the Nov. 13 attacks on Paris.