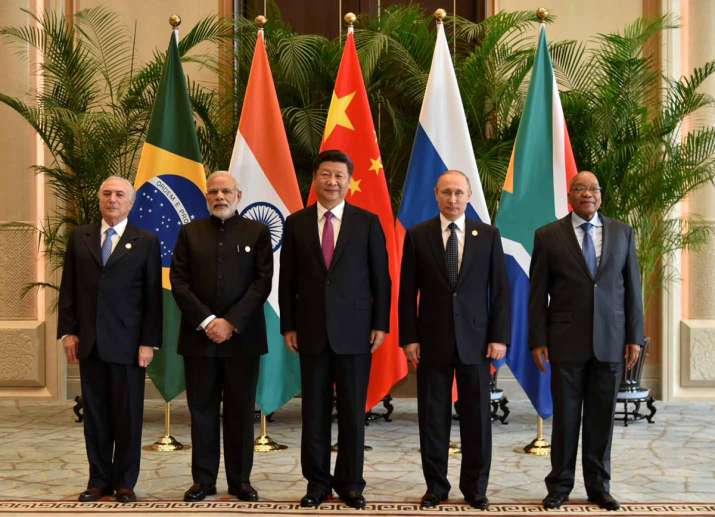 Prime Minister Narendra Modi on Sunday described BRICS as "an influential voice in international discourse", and said that it was the grouping's shared responsibility to shape the global agenda. 
"We, as BRICS, are an influential voice in international discourse. It is, therefore, our shared responsibility to shape the international agenda," he said in a meeting of BRICS leaders. 
"Our shared responsibility to shape international agenda in manner that helps developing nations achieve their objectives," he added. 
Leading from the chair, Modi addressed the BRICS Leaders Meeting, before the 8th annual Summit in Goa from October 15-16. 
Modi said that as the chair of BRICS (Brazil, Russia, India, China and South Africa), "Building Responsive, Inclusive and Collective Solutions' is the theme we have chosen which mirrors central priorities at G20 Summit". 
"We've taken BRICS out of capitals to involve people from all walks of life. It will be an opportunity to deepen our ties and with BIMSTEC (Bay of Bengal Initiative for Multi- Sectoral Technical and Economic Cooperation) countries. 
The four other leaders who participated in the meeting of the five-member bloc included Brazilian President Michel Temer, Chinese President Xi Jinping - with whom Modi held bilateral talks earlier, Russian President Vladimir Putin and South African President Jacob Zuma. 
"Our summit next month would not only be an opportunity to deepen ties with ourselves, we will also interact with India's neighbouring countries of BIMSTEC - Nepal, Bhutan, Bangladesh, Sri Lanka, Myanmar and Thailand, who have been invited for the outreach summit. We welcome you all to Goa next month," Modi said while concluding his brief address. 
In the bilateral meeting before the BRICS meeting, Jinping told Modi that China is willing to work with India to maintain their "hard-won sound" ties and further boost bilateral cooperation. 
"China is willing to work with India to maintain their hard-won sound relations and further advance their cooperation", state-run Chinese Xinhua news agency quoted Xi as saying during their half an hour meeting, their second in less than three months.

 

The two leaders held talks amid differences over a raft of issues. 
This was Modi's second bilateral meeting with Xi in less than three months. The two leaders had last met at the Shanghai Cooperation Organisation (SCO) Summit in June in Tashkent and again set to meet in Goa next month on the sidelines of BRICS summit. 
The meeting between the two leaders comes in the backdrop of contentious issues including listing of Pakistan-based terrorist organisations in the UN, China stalling India's membership at the elite Nuclear Suppliers Group (NSG) and USD 46 billion China-Pakistan Economic Corridor (CPEC). 
(With PTI inputs)