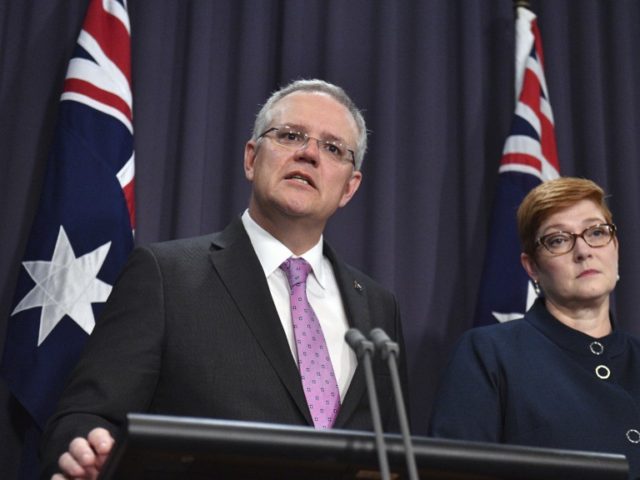 Australian Prime Minister Scott Morrison was egged by a 25-year-old woman protester Tuesday while campaigning ahead of next week's general election.
The egg grazed Morrison's head but did not break.
The woman was walking behind Morrison when she threw the egg that slipped off his head and hit another woman without cracking as he spoke to voters during an event at a New South Wales (NSW) town of Albury.
The woman, according to media reports, was carrying a carton of eggs with her.
In a statement, New South Wales police confirmed that they have arrested the woman.
"Officers from the Murray River police district placed the woman under arrest after she allegedly threw an egg at the prime minister during a Country Women's Association (CWA) event at Albury entertainment centre," a spokesman said.
"The egg appears to have struck the prime minister on the head. The prime minister's security team quickly restrained the woman. In the act of detaining her, another woman in attendance was knocked over. No injuries have been reported."
An elderly lady, Margaret Baxter, was knocked over during the scuffle was helped to her feet by Morrison and did not appear to be injured.
''My concern about today's incident in Albury was for the older lady who was knocked off her feet," the Prime Minister tweeted.
"I helped her up and gave her a hug."
"Our farmers have to put up with these same idiots who are invading their farms and their homes," he said.
"We will stand up to thuggery whether it's these cowardly activists who have no respect for anyone, or militant unionists standing over small businesses and their employees on work sites," Morrison added.
Carrying a six-pack of eggs, the attacker told reporters outside the event that Morrison "deserved it" and she did not intend for the older woman to be knocked over.
The CWA said the protester was not one of their members.
Morrison was greeting dozens of CWA members after addressing the organisation's state conference. 
Morrison is the second politician to be egged in recent weeks, after far-right senator Fraser Anning was egged in March by a 17-year-old boy, who he then punched twice. 
Australians are due to vote in a general election on May 18.