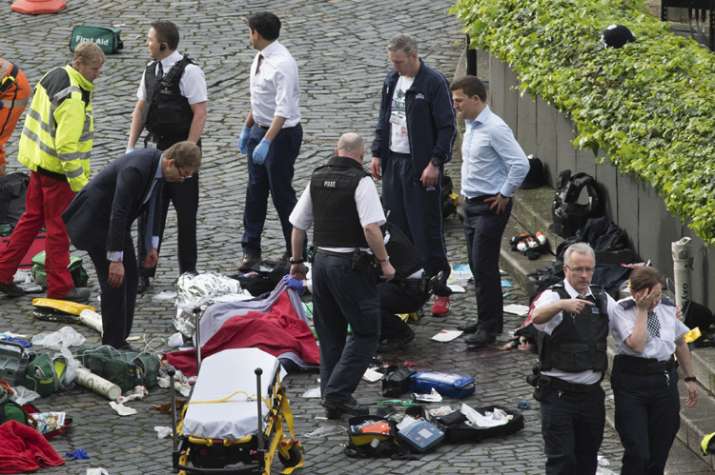 Britain's Parliament was locked down on Wednesday after an attacker stabbed an officer and was then shot by police, and witnesses said a vehicle struck several people on the nearby Westminster Bridge. 
A senior police commander said the attack at London's Parliament has been declared a terrorist incident and "a full counterterrorism investigation is underway."
Commander B.J. Harrington said "a number" of people have been injured, including police officers.
He said additional police officers, armed and unarmed, will be deployed across London during the evening rush hour as part of efforts to keep people safe.
Here is how witnesses described the attack on British Parliament: 
Witness Rick Longley told the Press Association that he saw a man stab a policeman outside Britain's Parliament. 
"We were just walking up to the station and there was a loud bang and a guy, someone, crashed a car and took some pedestrians out," he said.
"They were just laying there and then the whole crowd just surged around the corner by the gates just opposite Big Ben.
Lawmaker Adam Holloway on Wednesday told the AP he saw people running and immediately ran into his offices in Parliament to be with his staff.
"I was going down the escalators to vote and it's very rare for parliamentary police officers to start shouting. They were shouting to people to come down the escalators and then when I crossed the bottom of the escalators there was a wave of people coming the other way so I turned around and ran up the wrong way up the escalator to come back and check that my staff were ok
"The central lobby is locked off, the chamber is locked off, it does look to me, watching the television as if it's very much an incident on the perimeter of Parliament but they're not taking any chances so that's the current atmosphere here and we obviously think about the people who have been injured," he said. 
Britain's Parliament was on lockdown after - according to officials - an assailant stabbed an officer then was shot by police.
London Police also said officers were called to an incident on nearby Westminster Bridge.
Poland's former foreign minister, Radek Sikorski, said he was in a taxi leaving Westminster and was checking his email when he heard something like a car crash, "something like a car hitting metal sheet."
"I look up and I see that a person is lying on the pavement. I started my camera and I saw more people lying on the street and on the pavement," Sikorski said on Poland's TVN24.
"People started running up to them. I saw one person who gave no sign of life, another man was bleeding from his head. In all, I saw five people who were at least seriously injured," he said.
"The taxi driver immediately called the emergency number. I heard ambulances within two or three minutes, so the rescue action was really very quick. There is a hospital near there."
A car on Westminster Bridge has just mowed down at least 5 people. pic.twitter.com/tdCR9I0NgJ

— Radosław Sikorski (@sikorskiradek) March 22, 2017
"It all happened so fast that there was no time to get scared," said Sikorski who posted his video on Twitter.
British lawmaker Grant Shapps said on Twitter that he was walking through the cloisters of the House of Commons to vote when he heard four gunshots. Police told lawmakers to get down on the ground and crawl to cover.
"Police response instant. Heard commotion, looked round. Police weapons drawn, 4 shots, police ordered us to hit ground & get back, get back," he said.
"Basically we were just coming across the bridge and we just heard a bang, then we just saw three people on the road. And then someone called out if anyone got first aid, some couples went running to help," one unnamed witness said. 
"I think more people were just in shock. Just now I am ... what happened the car just drove off. I didn't see what make the car was at all, not at all. We just tried to help the people on the street," he added.