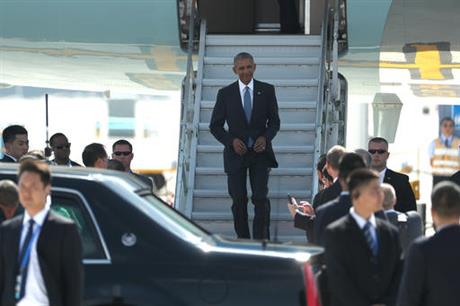 Upon his arrival in China for his concluding visit to Asia as commander in chief, the welcome rituals of US President Barack Obama were marred by an undiplomatic greeting.
Amidst the tightly imposed security measures, a Chinese personnel put forth a demand that all the US reporters gathered to cover Obama's arrival leave the scene.
When a female White House official told him that it was an American plane and the US president, he refuted saying, "This is our country. This is our airport."
He went on to block the way of US National Security Adviser Susan Rice who tried to step closer to the President.
"They did things that weren't anticipated," Rice told reporters afterwards.
However, the incident didn't have much of an impact on the scheduled meeting between Barack Obama and the Chinese President Xi Jinping.
Xi met his US counterpart Obama in the eastern city of Hangzhou on the eve of the G20 summit and said China was willing to work with the US to ensure bilateral ties stay on the right track.
He said China hopes to work with the US and other parties to achieve fruitful results during the summit to inject momentum to the global economy while lifting confidence.