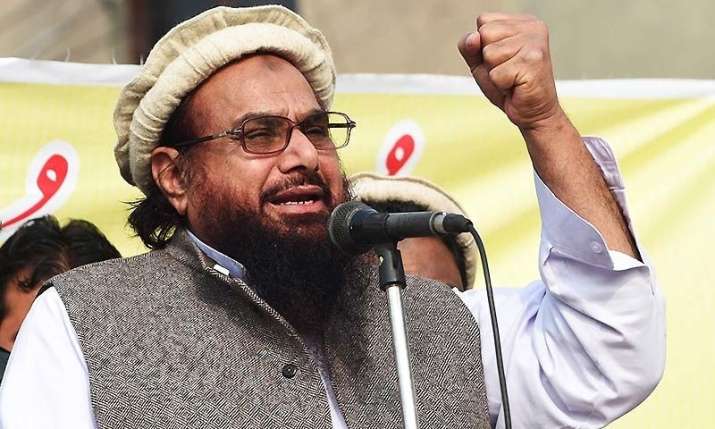 Islamabad: Frustrated with the growing military power of India and its close ties with the United States of America, Pakistan based terror group Jamaat-ud-Dawa's (JuD) chief Hafiz Saeed today expressed fear that the America may use the Indian bases to launch drone attacks in Pakistani cities.
He went on to claim that America has already stationed drones at the Indian bases and challenged Government of India to deny his claim.
"I am telling you the US drones are stationed at Indian bases. I challenge Prime Minister Narendra Modi to deny my claim. Their intentions are not good," Saeed, India's most wanted terrorist, said while addressing a crowd after offering Salat Al Jumuah (Friday prayer) here.
When Defence Minister Manohar Parrikar was asked about the LeT chief's remark, he said that 'such reactions are sign of frustration from enemies as India is getting the label of a strong and powerful country'.
"Such reactions are obvious from your opponents… enemies. India is garnering major global support and Prime Minister Narnedra Modi is playing a crucial role in this. India has already made it to the Missile Technology Control Regime (MTCR) and I am sure that it will also get the NSG membership," he said.
India yesterday moved closer to membership of the Nuclear Suppliers Group (NSG) with many of its member countries softening their stand on New Delhi's application.
This is for the second time in a week when Saeed, who masterminded the 2008 Mumbai terror attacks that killed 166 people, had spit venom against India.
Recently, he had warned India of dire consequences if it continues to show aggression against Pakistan and let US aircraft to use its airbase. He had even threatened that Islamabad would not hesitate to use nuclear bombs if New Delhi attacks.
"If any drone attack takes place against Pakistan from Indian bases, we have enough drones for whole India," the 66-year-old terrorist said.
Saeed is a major irritant in the already strained relationship between India and Pakistan. New Delhi has time and again expressed its resentment over his not being brought to book for the Mumbai attack. He runs the Lahore-based Jamaat-ud-Dawa (JuD), which he claims to be running for humanitarian charity. The JuD has been blacklisted by the US, which has described it as a foreign terrorist organisation.