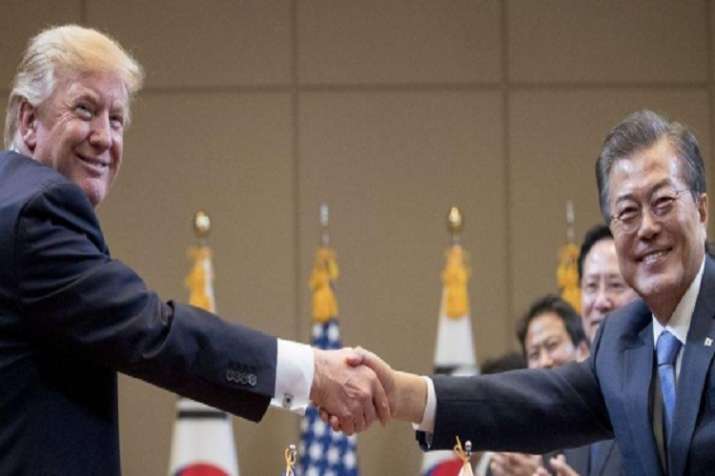 Ahead of his much-anticipated meeting with North Korean supremo Kim Jong-Un, US President Donald Trump will host his South Korean counterpart Moon Jae-in for talks at the White House on May 22.
In its statement, the White House said, "This third summit between the two leaders affirms the enduring strength of the United States-Republic of Korea alliance and the deep friendship between our two countries".
"Both the leaders will also discuss President's Trump's upcoming meeting with North Korean leader Kim Jong-Un.", the White House added.
President Trump was all praise for the successful conclusion of the Inter-Korean Summit held between Kim Jong-Un and Moon Jae-in held at the Panmunjom village in the Demilitarized Zone on April 27, wherein both the leaders committed to seeking complete denuclearisation of the Korean Peninsula. President Moon also praised Trump for his efforts to bring North Korea to the negotiating table.
Meanwhile, President Trump on Friday said that a date and venue for his upcoming summit with Kim Jong-Un would be unveiled soon. 
"We now have a date and we have a location, we'll be announcing it soon", said Trump.
Trump had earlier suggested this week that the Demilitarised Zone would be an appropriate venue for his talks with Kim Jong-Un. Other possible sites including Singapore, Mongolia and Switzerland are also under consideration.