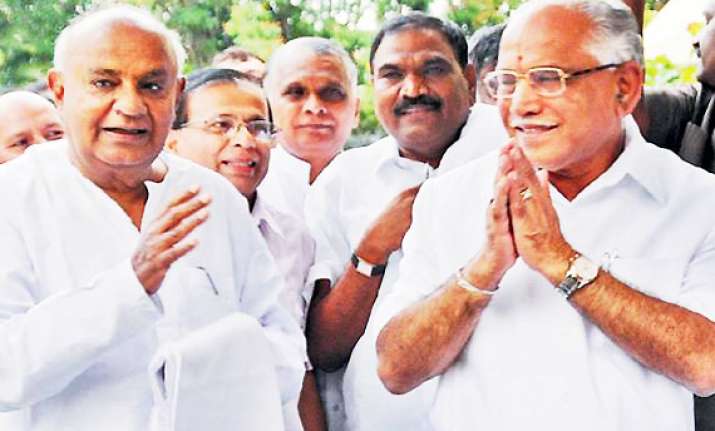 Bangalore, Oct 27: Former prime minister and Janata Dal (S) supremo H D Deve Gowda today alleged that former Karnataka chief minister B S Yeddyurappa was controlling the BJP government in the state from jail.

"... Yeddyurappa sitting inside the jail is controlling the government. No doubt about it... Yeddyurappa is not in the seat but he controls everything. Whole world knows (it)," he told reporters here.

Gowda claimed Chief Minister D V Sadananda Gowda could not remove a single official appointed to the Chief Minister's Office by his predecessor Yeddyurappa, who is in judicial custody in connection with a case relating to alleged irregularities in denotification of government land. 

He also said a few weeks before resigning as chief minister, Yeddyurappa had promised quick action after he (Gowda) held a dharna in front of his residence drawing attention to the "neglect" of his home district of Hassan by the state government in the last three-and-half years. 

He said he wrote in this regard to Sadananda Gowda and the latter informed him that the Cabinet has taken a decision to release Rs 18 crore to take up three works in Hassan. 

"Even after one-and-half months, not even 18 paise has been released. Who is controlling (the government)," Deve Gowda said, charging Yeddyurappa with stalling the move. 

Gowda said his son and MLA H D Revanna, would stage a dharna in front of the chief minister's residence on November 3 protesting the alleged neglect of Hassan. 

Denying any wrong doing in the Upper Krishna Project (UKP), Gowda said, "It's not one man's decision. There were four stages for approval, including empowered committee, the state-run Krishna Bhagya Jala Nigama Limited and the Cabinet."

The CID yesterday registered a case in connection with alleged irregularities and financial misappropriation in the UKP, a move seen as one aimed at dragging Deve Gowda in the alleged scam.

The case pertains to alleged irregularities between 1995 and 1998 (Gowda was chief minister during 1994-1996 and then was prime minister during 1996-1997). The FIR has not named any accused since their names were not yet known, said CID.

Asked if the BJP government was "targeting" him and indulging in "vindictive politics" since his party was vocal in levelling allegations of corruption against it, Deve Gowda side-stepped it but chose to attack CID chief Shankar Bidari.  He accused Bidari of raking up the case with an "aim" to become the state's DGP.

Officials worked sincerely to complete the project on time so that the state could utilise its full share of water under the Bachawat Tribunal award, Deve Gowda said.  He said the issues surrounding the UKP project would now be discussed in "public platforms".

"The war has begun now," he added.