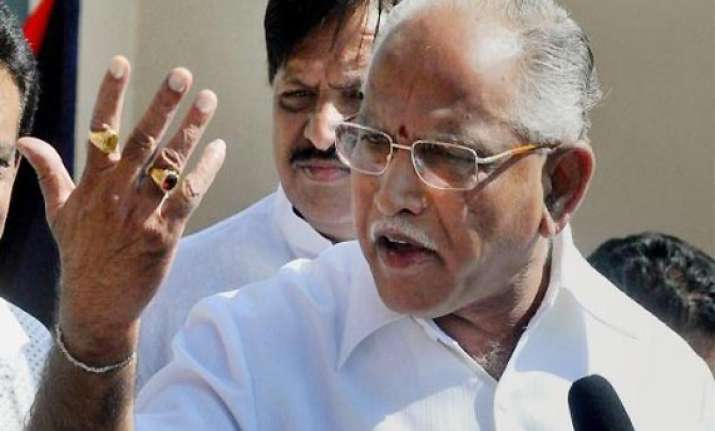 Bangalore, Mar 19: Upping the ante, BJP strongman B S Yeddyurappa today fielded a rebel candidate for the March 30 Rajya Sabha poll from Karnataka, as the stand-off with the party's central leadership over his reinstatement as Chief Minister intensified.
B J Puttaswamy, who served as Political Secretary to Chief Minister when Yeddyurappa was at the helm and continued in his post under his successor D V Sadananda Gowda, filed his nomination papers.
"I have filed nomination as a third candidate (of the BJP)", he told reporters.
Asked if he filed the papers on the direction of the party, Puttaswamy, a staunch Yeddyurappa loyalist, said: "That I don't know. More than the party's decision, I have filed the nomination as a third candidate as per law with signature of ten people (MLAs)".
On whether he filed papers at the behest of Yeddyurappa, he said: "I am not saying that".
On whether he has produced B-form from the party,  he claimed that he has time till tomorrow to do that. "I will give it tomorrow".
Along with the nomination, he said he attached the "acknowledgement" of his resignation letter from the post of Political Secretary to Chief Minister.
Earlier today, BJP state unit President K S Eshwarappa announced the two candidates of the party—Basavaraj Patil Sedam and R Ramakrishna—for the March 30 poll.