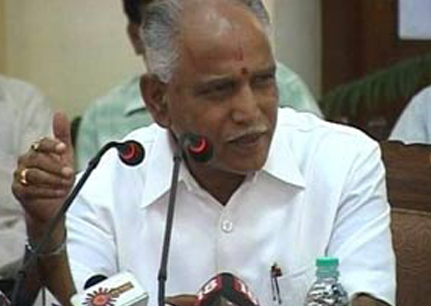 Bangalore, Nov 3 :  Seeking to downplay the decision to shelve ministry expansion plan at the last minute, Karnataka Chief Minister B S Yeddyurappa today said it was due to delay in finalising the names and he would soon set a new date for the exercise.
"Due to delay in finalising the names of those to be inducted into the ministry, I had to cancel today's swearing in. I will set a new date and am sure to expand the ministry", he told reporters here.
The Chief Minister said he would discuss the ministry expansion issue soon with party higher-ups.
Yeddyurappa, who recently survived a trust vote in the assembly, had decided to fill up four of the six vacant ministerial posts, but called it off after protests from some partymen.
BJP's Chief Whip in the Assembly D N Jeevaraj had quit his post on Nov 1, apparently unhappy with the fact that he may not find a slot.
A section of partymen had also opposed rewarding lone independent Varthur Prakash and Narasimha Naik, rebels turned loyalists, ignoring the claims of senior legislators.
Meanwhile, state unit BJP President K S Eshwarappa indicated the ministry expansion might take place either before Deepavali or soon after that.
Varthur Prakash, one of the MLAs who was tipped to take oath as minister today, met Yeddyurappa at his official residence to discuss the issue.
The BJP high command had yesterday stepped in to check the brewing discontent in the Karnataka unit on ministry expansion and directed Yeddyurappa to call off the swearing-in. PTI