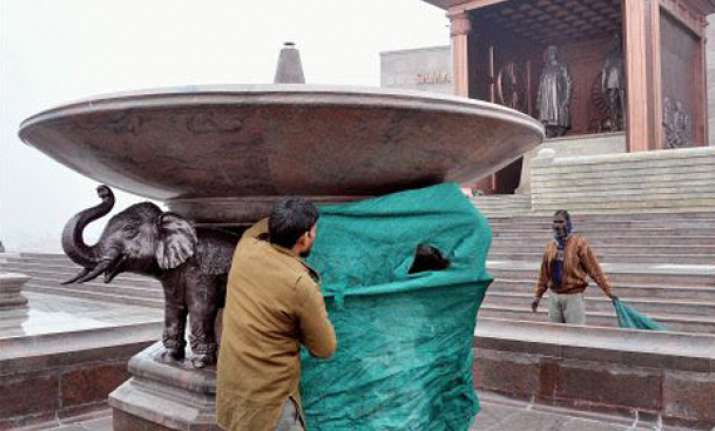 Noida/Lucknow, Jan 10: An exercise to cover up statues of BSP election symbol elephant and Uttar Pradesh Chief Minister Mayawati as per the directives of the Election Commission of India resumed in these two cities today. 

Though a symbolic exercise was carried out in Lucknow on Sunday, the work remain suspended in the state capital yesterday.

"At around 11 AM, a team of workers reached the Bhimrao Ambedkar Samajik Parivartan Sthal at Gomti Nagar in Lucknow and started erecting an iron structure around a statue of elephant which will be used to put the cover," officials said here.

Similarly, an exercise has been started at the Samajik Parivartan Sthal where statue of CM Mayawati has been installed along with BSP founder Kanshiram, they said. 

"The work of draping statues was not carried out today and could start from tomorrow," Lucknow district magistrate and district electoral officer Anil Sagar had said yesterday. 

Reports from Noida said that statues of BSP symbol and party Chief were being draped at Dalit Prerna Sthal.

The site built at a cost of Rs 685 crore has 30 elephant statues made of stone and 22 elephant statues made of bronze. 

Beside this, it has two statues of BSP chief Mayawati. 

The statues of the elephants are being covered with pink polythene, while Mayawati statues will be covered with cloth. 

In Greater Noida, statues of CM Mayawati and elephants were draped yesterday and the exercise was carried out at a number of places, including two parks in Badalpur village and Gautam Buddha University, a senior officer said. 

In all 36 statues of elephant and two of CM have been covered in Greater Noida, District Magistrate Gautam Buddha Nagar Hridesh Kumar had said.

"By January 11 at 5 PM all statues will be covered," Kumar said.

The Election Commission had directed the District Election Officers of two districts to cover statues of UP CM and elephants at various parks and memorials by January 11. 

Meanwhile, a PIL challenging the EC's order to cover statues of Mayawati and BSP's election symbol elephant was filed in the Allahabad High Court yesterday. 

The PIL contended that the elephant represented venerable Hindu deity Lord Ganesha and draping its statues could hurt religious sentiments.