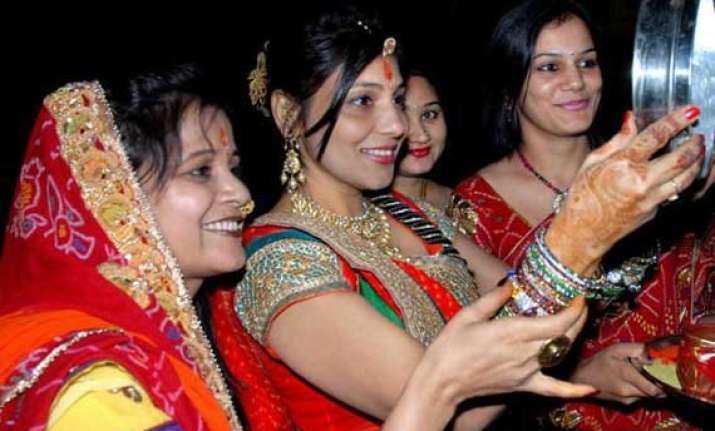 New Delhi: Adorned in traditional costume, bedecked in ornaments and sporting intricate mehendi patterns on their hands, women in the national capital today observed Karva Chauth with festive fervour and a day-long fast praying for the long life of their husbands.
Shops and marketplaces were crowded with married women looking to buy everything from jewellery and clothing to sweetmeats and almonds and dry fruits for the occasion. On the roadsides stretched lines of women getting their hands and feet hennaed.
Women from the older generation say that despite the winds of change blowing through society, the festival has not lost its charm with the younger lot.
"Despite long working hours and tight schedules, married women of Delhi have been observing the age-old tradition of fasting for the long life of their husbands. They break the fast by taking the first morsel of food from the hands of their husbands after the sighting of the moon," said 60-year- old Shashi Sharma.
Observing her first Karva Chauth, newlywed Pallavi Singh had office in the morning but managed to leave early for home as "on this day, you have the privilege of leaving early. No one minds".
"I am excited about the entire thing. I am eagerly waiting for the moon to come up in the sky. All the women in my building are also fasting," Pallavi said, adding that her husband, too, has kept a fast.
Indeed, several husbands joined their wives in keeping a fast for the festival. Deepak Verma, a Mayur Vihar resident, said that "it is a wonderful feeling to observe Karva Chauth for each other".