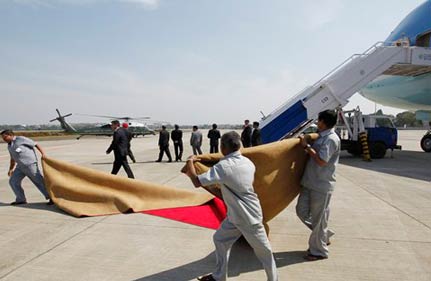 Mumbai, Nov 7 (PTI) Strong winds today played a bit of a spoilsport for the red carpet send off to the Obamas for Delhi as the gusts blew away the rug twice despite the best efforts of officials who finally decided to get rid of it to avoid an embarrassment.
Even as authorities in Mumbai were preparing to bid adieu to President Barack Obama and his wife Michelle, strong winds kept blowing away the red carpet laid out at the airport for them and the problem was compounded by the sweep of the rotors of the two US helicopters.
Twice the authorities rolled out the red carpet and both the times, it was blown away by the wind.
Finally, the authorities decided to do without the rug and the US President and his wife walked without one to the aircraft.