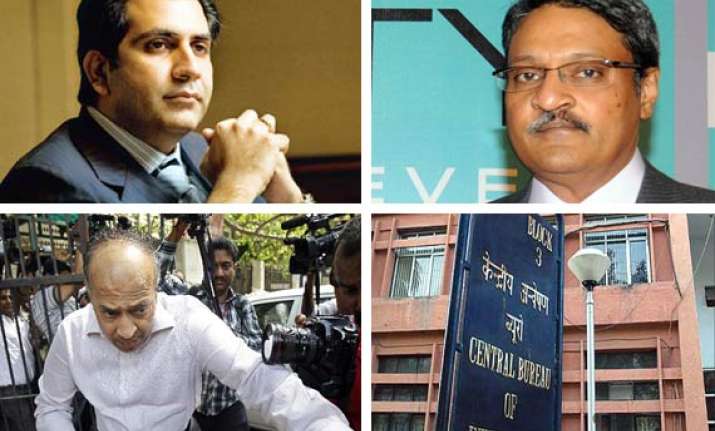 New Delhi, Apr 20: The reason why  CBI wanted judicial custody of five executives of companies named in the telecom scam chargesheet was that it suspected they may flee the country to avoid trial.

Of the five whose bail pleas the agency has opposed, three are from the Reliance Anil Dhirubhai Ambani Group — Gautam Doshi, a group managing director, Surendra Pipara, group president and Hari Nayar, senior vice-president.

The other two are Vinod Goenka, a director of Swan Telecom, and Sanjay Chandra, Unitech managing director.

CBI  special prosecutor had told the special court that all five held high positions in their companies and may influence witnesses who were working under them.

"The accused persons are holding high positions and now that the names of witnesses are disclosed, some of whom are directly working under (them) or are amenable to their directions, possibility of winning over and/or influencing the witnesses is clearly present," U.U. Lalit, whom the Supreme Court has appointed the special public prosecutor, told the court.

"The complicity of the accused persons in the crime is clearly made out. The acts complained of and offences alleged are far serious, having made deep inroads in public interest and financial affairs of the state," Lalit said, adding that there was every chance that the five would abscond.

The five have been chargesheeted along with former telecom minister A. Raja, his two aides — R.K Chandolia and Siddharth Behura — and Shahid Usman Balwa, a promoter for Swan Telecom.

Three companies — Reliance Telecom (part of Reliance ADAG), Unitech Wireless and Swan Telecom — have been named in the chargesheet, which the CBI submitted to the special court on April 2.

Replying to the CBI's argument, the lawyers of the telecom executives had told the court that their clients had co-operated with the probe and were not arrested during the investigation.

"What is the ground for their judicial custody now? They did not influence their officials while their statements were recorded by the CBI. So how could they do it now?" Counsel for Sanjay Chandra had asked.