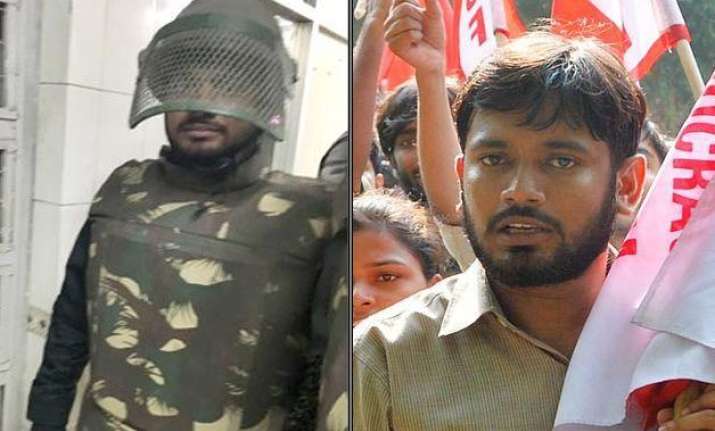 New Delhi: JNUSU president Kanhaiya Kumar is likely to walk out from Tihar jail after 19 days of imprisonment for having allegedly raised anti-India slogans. The event at JNU where these slogans were raised had drawn ire from across quarters, with the JNU student leader even falling under severe attack by lawyers at the Patiala House court complex where he was being produced for hearing in a case of sedition. 
While the police have come under severe flak over their failure to protect the accused in their custody on two occasions, it has now emerged that had it not been for the police, the situation could actually have gone from bad to worse. To sneak out Jawaharlal Nehru University's student union (JNUSU) president Kanhaiya Kumar out of the Patiala House Court on February 17, the Delhi police camouflaged him as a cop in order to avoid another assault by the lawyers. It was on this day that  an angry mob of lawyers had attacked the student leader while he was on his way into the court premises.
Kanhaiya was dressed in a battle uniform with a helmet and a bullet-proof jacket so that he looked like a member of the riot police. The police had to take such a step to save Kumar from atleast 200 lawyers who had assembled near the courtroom and at the exit gates to stop him from being taken out of the court premises.
Following the situation, an emergency meeting was called upon at the police headquarters where they finalised the exit plan.
Kanhaiya was fitted amidst a baton of 50 policemen with a visor to cover his face.
Thus, the Delhi police ensured that Kanhiaya was safely taken out without letting a violent mob of lawyers spot him.