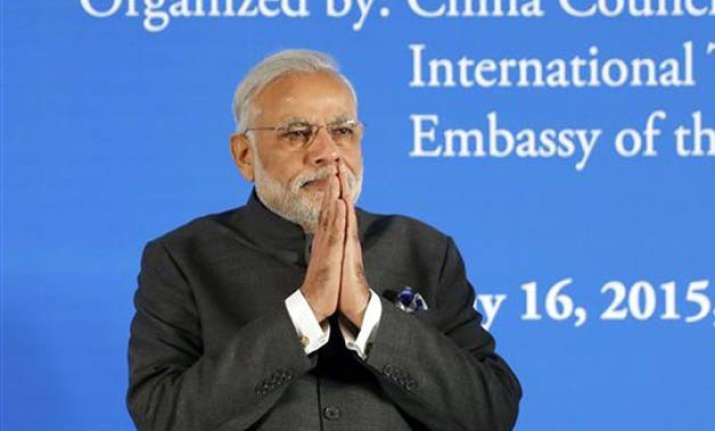 Vadodara:  Criticising Prime Minister Narendra Modi over his visit to China, senior VHP leader Acharya Dharmendra Maharaj today said the neighbouring country was not "trustworthy" and the PM should instead focus on strengthening relations with Israel.
"China is not a trustworthy friend...A man with self respect would never visit China after that country showed a map of India without Jammu and Kashmir. China has been investing huge money in the Pak-occupied J&K for strengthening the infrastructure facilities there," he said on the sidelines of an event here.
"Agar dusara koi hota to vo vahan thukta. (Anybody else would have spat there)," the VHP leader said.  
He urged the Prime Minister to instead visit Israel and strengthen ties with that country.  He said Modi needs to decide whether to follow in the footsteps of Sardar Vallabhbhai Patel, "who never trusted China" or become a "global man".
Dharmendra Maharaj also slammed Modi for extending USD one billion credit line to Mongolia for infrastructure development, stating that it was country of Genghis Khan, the 13th-century warrior, who founded the Mongol Empire. 
"The announcement to financially assist Mongolia comes when large number of people in India were facing starvation," he said.
He also sought to know why Modi has so far not visited Ayodhya "for darshan of Ram Lalla".  
"After Rahul Gandhi's visit to Kedarnath, it is necessary for Modi to visit Ayodhya," he said.  
The VHP leader also urged Home Minister Rajnath Singh to bring a legislation in Parliament on construction of Ram temple in Ayodhya and get it passed on the same lines like Land Acquisition Bill.