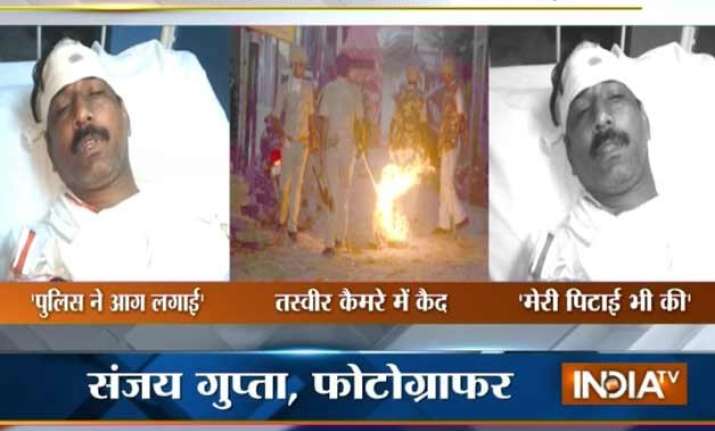 Varanasi: The role of police in Varanasi violence has come under scanner after images of policemen setting a motor bike on fire started doing rounds on social media.
A photo journalist Sanjay Gupta, associated with a leading national daily, claimed before mediapersons that he was beaten up by a group of policemen and his two cameras were broken by them as he clicked the act of 3-4 policemen torching a motorbike. To support his claims, Gupta presented few photographs.
Gupta also sustained head injury and is undergoing treatment in a private hospital here. A few other journalists and camerapersons also had received minor injuries in the incident.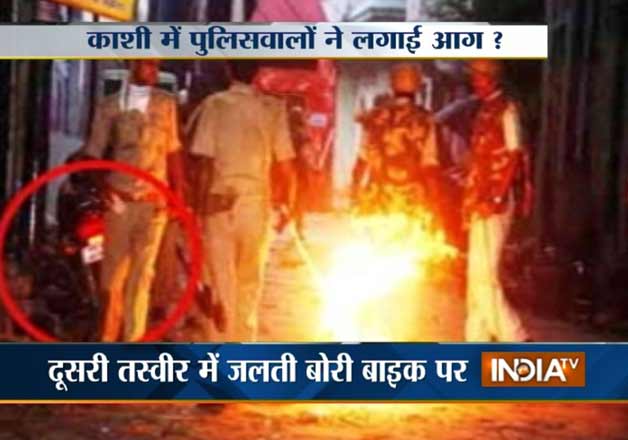 SSP Akash Kulhari, who met him today in the hospital, denied Gupta's allegation, saying the photographs didn't confirm the acts of policemen torching a motorbike.
He added that if he has any video or any such video surfaces, he would take strict action against the guilty policemen.
Gupta told PTI that his camera was snatched and crushed by policemen and that a group of 20 policemen including PAC personnel beat him up brutally with their lathis.
Meanwhile, Police on Tuesday said, the violence and arson that rocked the holy city yesterday was pre-planned.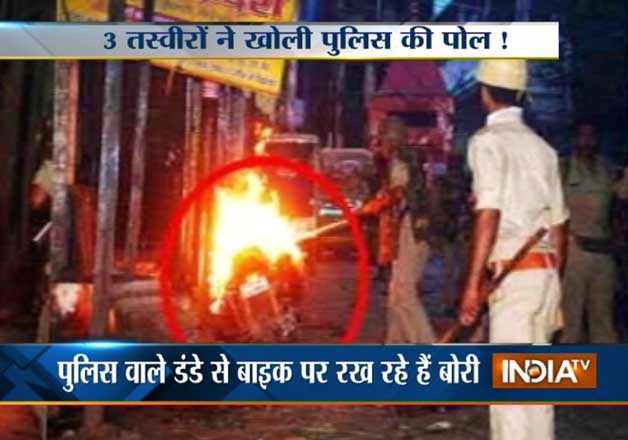 "We have evidence to say that it was pre-planned. What or who instigated them is being investigated," SSP Akash Kulhari said today while referring to yesterday's violent incidents which left 25 people, including 8 policemen, injured and lot of property destroyed.
He said the saints who participated in the protest march that turned violent have been named in the FIR in their capacity as organisers, besides taking note of their actions in the run-up to the violence.
The protest march was led by Swami Avimukteshwaranand and included Ajay Rai and another Congress leader Rajesh Pati Tripathi, BJP MLC Laxman Acharya and his party leaders Sadhvi Prachi, MLA Ravindra Jaiswal and Shyam Deo Roy Chaudhaury.
Kulhari said the FIR was registered pertaining to sections of rioting, obstructing police in discharge of duty, damage to public and private property under various Sections of the Indian Penal Code.
Meanwhile, some arrested youngsters claimed that they were returning home from their work and police arrested them citing their involvement in the violence.
However, the SSP denied this, saying the arrests have been made as per the CCTV and video footages.