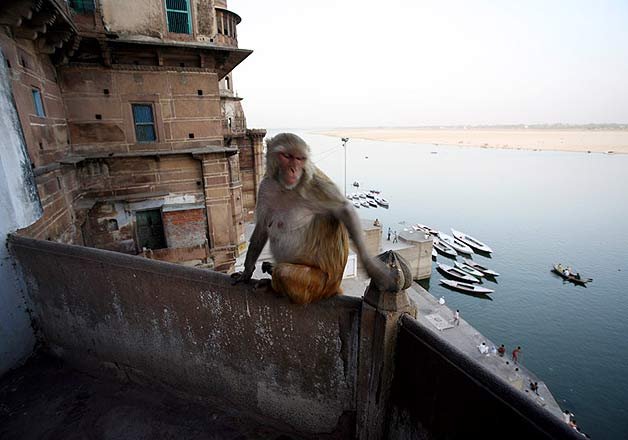 Varanasi:  Monkeys are proving to be the biggest hurdles in transforming Prime Minister Narendra Modi's constituency Varanasi into a modern city.
Varanasi , a 3,000 year old holy city on the side of river Ganga is  a part of India's $18billion plan to extend information revolution in every nook and corner of the country.
Varanasi  which is  the  first of an eventual 2,500 locations singled out for street-level Wi-Fi  is facing problems at various levels which includes crowded streets, shortage of power supply and the most unique  one from the macaque monkeys.
It may sound strange but it's true.  The dream of making Varanasi a Wifi city has been hit by hundreds of macaque monkeys which live in the city's temple and are fed by the devotees.
Communication engineer AP Srivastava who is associated with the project has said " The monkeys, they destroy all the wires and eat all the wires," He further  said that  his team had to restore the riverside cables when the monkeys chewed them up less than two months after they were installed.
Varanasi is a city which has more than 20 lakh people living in it and laying underground cable is out of the question.
Varansi got free wi-fi in February 2015. A resident of the city said "Free Wi-Fi is a good facility for tourists but I think the officials should think about cleaning the ghats,".
The present government has vowed to put down at least 700,000 kms of broadband cable to connect India's 250,000 village clusters within three years, build 100 new "Smart Cities" by 2020, a move which will face such hurdles in the coming days.