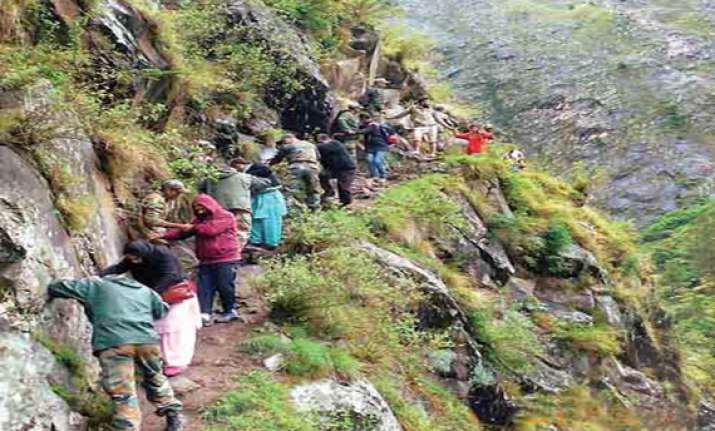 Kanpur, Jun 20 :  Families and relatives of around two dozen people of the city have been unable to contact stranded tourists who are stuck in various parts of flood-affected Uttarakhand, with Dehradun district administration denying it had any information about them.
As administration has failed to provide any satisfactory information, the families have decided to find out whereabouts of their stranded relatives on their own.  The calamity has left city based Chartered Accountant Mukesh Srivastva worried as he has no contact with 16 of his family members for the last three days.  He said he had no contact with his family members after June 17, when he got a call from his brother-in-law Hemant Sinha from Kedarnath.
"He told me about heavy downpour there but said the family members were safe. After that I have no contact with him", said Mukesh.
He said details of Hemant's mobile phone network revealed that he was talking from Kedarnath. However, his whereabouts are unknown after that, he added.
Srivastva said since control rooms set up by the Dehradun administration had failed to give any satisfactory answer to their queries, the family members have decided to go to Dehradun to locate their missing relatives.  The tragedy also hit the family of Ram Lakhan Bhatt, resident of Barra Mohalla of the city, who lost his two family members in floods, which also left his son and grandson seriously injured.
Bhatt said his daughter-in-law Rashmi and grand-daughter Aastha (9) swept away by flash floods at Kedarnath. His son Saurabh and grandson Kartikey (8) were seriously injured and admitted in a hospital.
Similarly, Binu Shukla, resident of Yamunagar locality of the city is also untraceable.