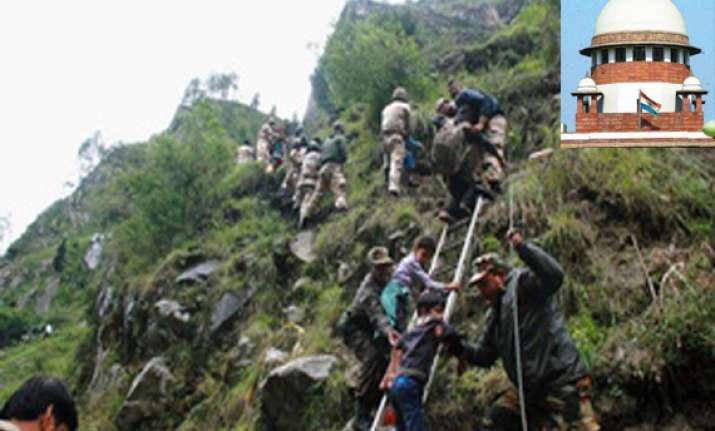 New Delhi, Jun 20 :  The Supreme Court today directed the Centre and Uttarakhand government to make all out efforts to rescue thousands of people stranded in the state due to flash floods and provide them food and drinking water.
A bench of justices A K Patnaik and Ranjan Gogoi directed the governemnts to deploy sufficient number of helicopters to rescue flood-affected people in the area.
"We direct as an interim measure that all stranded people be provided immediate relief by the state and district authorities by giving them food, medicines and other essential things including fuel," the bench said.
It asked the Centre and National Disaster Management Authority to provide all required resources to the state governemnt.
The court passed the order on a PIL filed by a lawyer Ajay Bansal seeking its direction to Centre and state governemnt to rescue people stranded in the state.
The bench also said that authorities should not discriminate among the affected people in relief and rehabilitation operations after the petitioner alleged that government agencies are neglecting people stranded in Gangotri.
It also asked the Centre to file a report on the relief and rehabilitation work in the state on June 25 when the case will be taken up for further hearing.
"We also direct, depending on the availability of helicopters, sufficient number of helicopters be deployed for picking up the stranded persons," the apex court said in its order.
Although the official toll is over 150, it is feared that thousands of pilgrims staying in 90 rest houses may have been washed away.