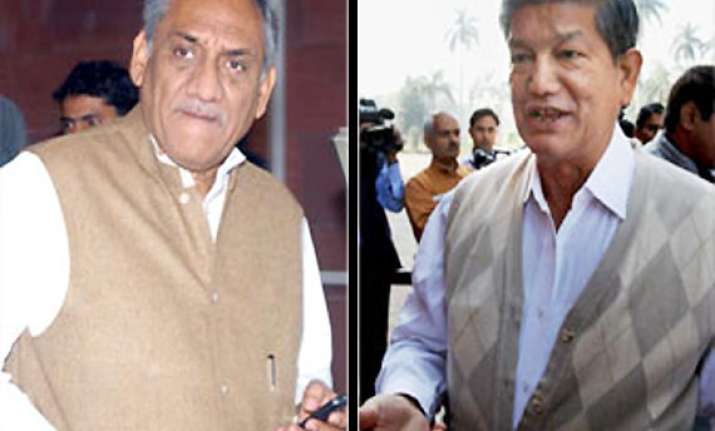 Dehra Dun, Mar 19: The crisis in Uttarakhand Congress ebbed today with the central leadership working out a compromise formula under which three loyalists of rebel leader Harish Rawat will be given ministerial berths in the cabinet expansion tomorrow.
As part of the deal, a close associate of Rawat, Mahendra Singh Mahra filed nominations for the lone Rajya Sabha seat in the state.
Chief Minister Vijay Bahuguna, who is set to expand his cabinet tomorrow, has agreed to give cabinet berths to Govind Singh Kunjwal, S S Negi and Pritam Singh, who are Rawat loyalists, Congress sources said.
Earlier in the day, three more Congress MLAs took oath raising their number to 21, all of whom proposed the nomination of Mahra.
Efforts were underway to persuade the remaining 11 party MLAs to take their oath.
With most of the hurdles removed, Bahuguna went to the Raj Bhavan with a proposal to Governor Margaret Alva that he would like to expand his cabinet tomorrow, which was accepted.  
However, Harak Singh Rawat, a senior Congress leader, claimed from New Delhi, "the two key demands like creation of posts of two deputy CMs and a cabinet berth in the union government for Rawat have not been conceded by the high command".
The three Congress MLAs who took oath in the chamber of protem speaker Shailendra Mohan Singhal include senior party leader Indira Hridayesh (Haldwani), Madan Singh Bist (Dwarahaat) and Ganesh Godiyal (Srinagar).  
Congress has a strength of 32 MLAs in the House of 70 banking heavily on the support of 7 non-BJP MLAs.  Talking to reporters, Bahuguna expressed confidence that he would prove his majority in the house. 
"All the MLAs are with us," said Bahuguna as he hurriedly left the Vidhan Sabha.