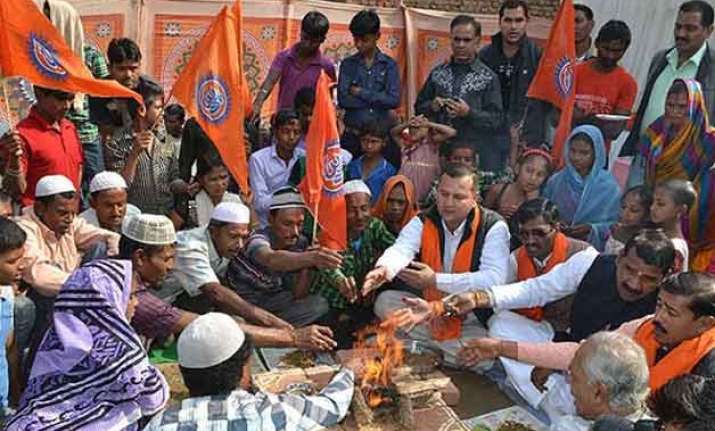 New Delhi: India on Thursday strongly reacted to a report by a US Congress-established panel claiming that minorities in the country have been subjected to "violent attacks" and "forced conversions" after the Narendra Modi government assumed power in 2014.
India, however, refuted saying it does not take cognisance of such reports. External Affairs Spokesperson Vikas Swarup said, "Our attention has been drawn to a report of the USCIRF which has passed judgement on religious freedom in India."
"The report appears to be based on limited understanding of India, its Constitution and its society," he said, adding that "We take no cognisance of the report."
In its 2015 annual report, USCIRF (US Commission on International Religious Freedom) said, "Since the election, religious minority communities have been subject to derogatory comments by politicians linked to the ruling Bharatiya Janata Party (BJP) and numerous violent attacks and forced conversions by Hindu nationalist groups, such as Rashtriya Swayamsevak Sangh (RSS) and Vishva Hindu Parishad (VHP)."
It also said that despite the country's status as a pluralistic, secular democracy, India has long struggled to protect minority religious communities or provide justice when crimes occur, which perpetuates a climate of impunity.
USCIRF said in December 2014, Hindu groups announced plans to forcibly "reconvert" at least 4,000 Christian families and 1,000 Muslim families to Hinduism in Uttar Pradesh on Christmas day as part of a so-called 'Ghar Wapsi' (returning home) programme.
"In advance of the programme, the Hindu groups sought to raise money for their campaign, noting that it cost nearly 200,000 rupees per Christian and 500,000 rupees per Muslim. After both domestic and international criticism, the day was 'postponed' according to Mohan Bhagwat, an RSS leader," the report said.
The USCIRF report further said, "Members of the RSS allegedly tricked dozens of Muslims families into attending a meeting by telling them they would be provided financial help, but instead a Hindu religious leader performed a Hindu conversion ceremony; an investigation is underway."
According to the report, at an event honouring Indian Catholic saints in February, Prime Minister Narendra Modi stated publicly, for the first time, that his government "will ensure that there is complete freedom of faith and that everyone has the undeniable right to retain or adopt the religion of his or her choice without coercion or undue influence".
This statement is notable given longstanding allegations that, as Chief Minister of Gujarat in 2002, Modi was complicit in anti-Muslim riots in that state, it said.
"Moreover, religious minority communities voice concern that high-ranking BJP members protect or provide support to these groups. In light of these concerns, Prime Minister Modi's statement in support of religious freedom made after the close of the reporting period (discussed more fully below) was a positive development," it said.
The USCIRF said Indian courts are still adjudicating cases stemming from large-scale Hindu-Muslim communal violence in Uttar Pradesh in 2013 and in Gujarat in 2002, Hindu-Christian communal violence in Odisha in 2007-2008, and Hindu-Sikh communal violence in Delhi in 1984.
"NGOs, religious leaders, and human rights activists allege religious bias and corruption in these investigations and adjudications. A one-member special judicial inquiry commission is still investigating the 2013 riots in Muzaffarnagar, Uttar Pradesh that left dozens, mostly Muslims, dead and tens of thousands, mostly Muslims, displaced.
"Cases stemming from the 2002 Gujarat violence also continue, including a special court case pertaining to the killing of 68 people, including former Congress Party Parliamentarian Ehsan Jafri," it said.
It may be mentioned here that US President Barack Obama had twice made a strong pitch for religious tolerance in India.