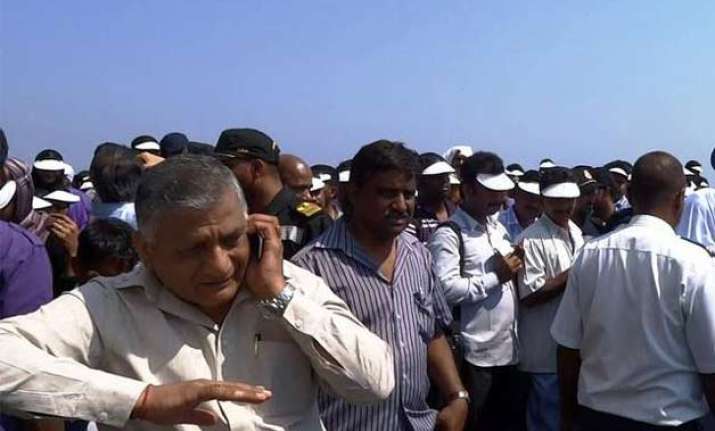 New Delhi: Impressed with India's successful evacuation of its citizens from war-hit Yemen without firing a single bullet, twenty six countries including, USA, France, Germany, Turkey and Sweden, have sought India's assistance to evacuate their citizens from violence hit Yemen.
US government issued a travel advisory for its citizens in Yemen instructing them to seek India's assistance for evacuation from Sanna to Djibouti. The US citizens have been advised to contact Indian diplomats in Embassy at Sanna for assistance for evacuation either by boat or air.
External Affairs Ministry spokesperson Syed Akbaruddin tweeted along with the list of 26 countries, "Requests for Indian assistance in evacuation from Yemen keeps growing. On last count 26 requests received."
The countries who requested Indian assistance are Bahrain, Bangladesh, Cuba, Czech Republic, Djibouti, Egypt, France, Germany, Hungary, Iraq, Indonesia, Ireland, Lebanon, Malaysia, Maldives, Nepal, Netherlands, Philippines, Romania, Slovenia, Sri-Lanka, Singapore, Sweden, Thailand, Turkey, USA.
Despite having a strong naval presence as well as Air Force deployment in the region, the request has special significance. France also has presence of its Navy in the region to counter piracy.
This is significant considering the fact that the US has strong naval presence as well as deployment of its Air Force in West Asia. France also has presence of its Navy in the region to counter piracy. ​
According to sources, Indian assistance has been sought due to the country's geographical location and wherewithal to undertake evacuation.
It has so far evacuated over 2,000 out of its 4,000 citizens in Yemen besides some Persons of Indian origin there. Minister of State for External Affairs VK Singh has been on ground for days overseeing the operation.
Prime Minister Narendra Modi was pleased with evacuation operation and expressed his joy on Twitter, "Colleagues @SushmaSwaraj & @Gen_VKSingh (who has been on the ground for days), have co-ordinated evacuation efforts in an exemplary manner."