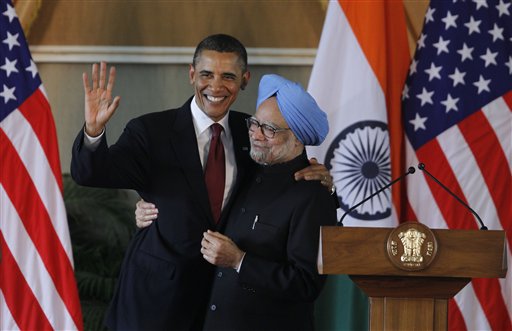 New Delhi, Nov 8 : Pushing for Indo-Pak dialogue, US President Barack Obama today offered to play "any role" the two countries would like it to do to reduce tensions but Prime Minister Manmohan Singh made it clear that talks cannot take place until Pakistan ends "terror-induced coercion".
Singh asserted that India wants to engage with Pakistan to resolve all outstanding issues and was "not afraid" of discussing Kashmir.
Obama and Singh discussed the India-Pakistan ties and other range of issues covering bilateral and global matters and announced a number of new initiatives, including cooperation in homeland security, removal of Indian entities from the US sanctions list and setting up of a research centre in India in the civil nuclear field.
Singh welcomed the US move to end export control on dual-use technology to India and support for its membership of multilateral groupings in the nuclear field, like the Nuclear Suppliers Group.
He allayed America's fears over outsourcing, saying India was "not in the business of stealing jobs" but cooperation in the economic field would create a win-win situation for both teh countries.
After the 75-minute meeting, Obama told a joint press conference that he had discussed situation in the region, including India-Pakistan relations with Singh.
"Kashmir is a longstanding dispute between India and Pakistan. I believe both Pakistan and India have interest in reducing tensions between the two countries," said the US President who is on his maiden visit here.
Emphasising that the US "cannot impose" solution to this problem, he said he had "indicated to Prime Minister Singh that we are happy to play any role the parties think is appropriate to reducing these tensions that is in interest of the region, the two countries and the United States."
Hoping that "coversations" between India and Pakistan would start over the "next several months and years", Obama said the dialogue may not start on that "particular flash point" but other issues like confidence-building measures to enable the two countries to focus on range of their challenges and opportunities.
Singh, on his part, asserted that India was committed to engaging with Pakistan and resolve all outstanding issues, "including the word-K (reference to Kashmir). We are not afraid of that.
"But it is our request is that you cannot simultaneously be talking and at the same time the terror machine (in Pakistan) is active as ever before. Once Pakistan moves away from terror-induced coercion, we will be very happy to engage productively with Pakistan to resolve all outstanding issues."
Singh noted that he had always maintained that a "strong, peaceful and moderate" Pakistan is in the interest of India, South Asia and the world as a whole.
Obama commended Singh's "sincere and relentless desire", expressed "publicly and privately", to pursue peace with Pakistan and hope the two countries would "find mechanisms that will be appropriate" to reduce tensions.
Speaking elaborately on growing Indo-US ties in various aspects, the President said the relationship is "indispensable" in addressing trade-economic opportunities and confronting challenges like terrorism, violent extremism and spread of nuclear weapons.
In this context, he said the two countries had decided on a "new step" on cooperation between Home Ministries to improve security at airports and borders.
He also announced the US decision to remove Indian organisations from the "so-called Entities List", implying that companies like the DRDO, BARC and Bharat Dynamics Limited, ISRO would be able to have cooperation with the American firms.
The two leaders also discussed implementation of civil nuclear agreement and cooperation in clean technology.
Obama also announced India's decision to buy 10 C-17 cargo planes that will create 22,000 jobs in the US.
The two leaders also discussed ways to reduce trade barriers, with Singh underlining that any protectionist tendency would not be beneficial for both the countries.
Emphasising that India is already a power which has "risen", the US President said it has a crucial role to play in East Asia as well as rest of the world and the two leaders discussed the need for international institutions like the UN to reflect the present day realities.
Obama noted that he had decided to visit India for three days which is the longest time he had spent in any country after becoming the President. PTI