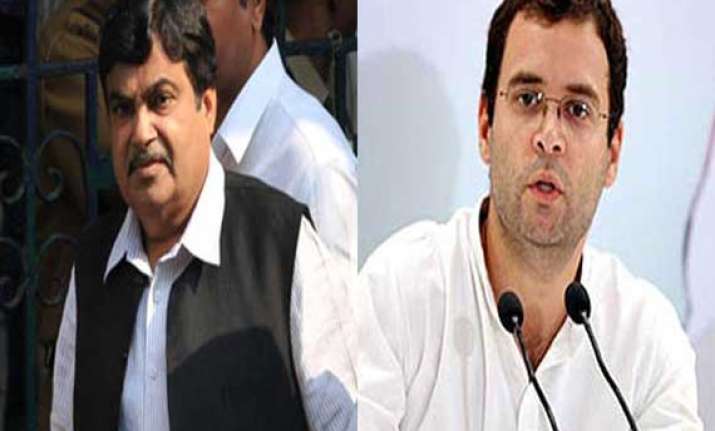 New Delhi: The "land acquisition law" bearing Rahul Gandhi's imprint, enacted by the UPA government last year, came under all-round attack from states, including those ruled by Congress, raising the prospect of drastic changes in its provisions.
While the vociferous demand of BJP-ruled states to repeal the law was unlikely to be met, sources said there could be significant changes in the existing act.
At a meeting of state revenue ministers chaired by Union Rural Development Minister Nitin Gadkari, the states, including Congress-ruled Haryana, objected to provisions for mandatory consent of at least 70 per cent locals for acquiring land for public-private-partnership (PPP) projects and 80 per cent for acquiring land for private companies.
The states also opposed provisions for social impact assessment (SIA) study, which is made mandatory in all land acquisitions, saying it was time-consuming and leading to cost escalation in small projects.
The refrain of most states was that certain provisions of the law, enacted during the tenure of previous UPA government, were posing a major hindrance in acquiring land for infrastructure and industrial projects.
"We have taken note of issues raised by states and will prepare a report which will be submitted to the PM in ten days," Gadkari later said.  He also expressed the government's commitment to protect the interests of farmers.
"As far as the interests of farmers are concerned, especially compensation, rehabilitation and resettlement, our government have already decided we will not compromise on any condition related with the beneficiaries, particularly farmers," he said.
Sources said most states including AIADMK-ruled Tamil Nadu, Congress-ruled Karnataka and Kerala, Samajwadi Party-ruled Uttar Pradesh and BJD-ruled Odisha complained that land acquisition for industrial and infrastructure projects had been impacted severely because of the Act.
BJP-ruled states criticised the Land Act, saying it was enacted in a hurry due to Lok Sabha elections and its provisions were adversely affecting even small projects.
Sources said states such as Gujarat, Goa and Chhattisgarh demanded drastic changes of the Right to Fair Compensation and Transparency in Land Acquisition, Rehabilitation and Resettlement Act, saying it was causing delays in even small projects. Odisha said the Act required a revamp.
Sources said the BJP-ruled states wanted a new Act in place of the existing one which replaced the Land Acquisition Act, 1894, a nearly 120-year-old law enacted during British rule.
"The appointment of SIA unit in each district may also prove to be challenging. The introduction of public hearings at various stages may provide hindrance to the smooth conduct of the process," Revenue Minister of Congress-ruled Kerala, Adoor Prakash, said criticising the provision.