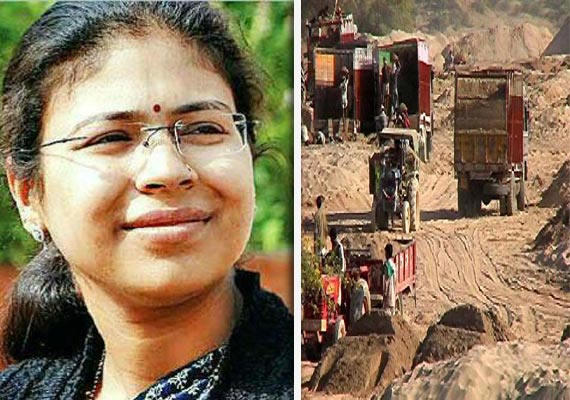 Lucknow, Jul 29: The UP IAS officers association today demanded the revocation of the suspension order issued to Durga Shakti Nagpal, a fearless IAS officer in Noida, who was fighting the sand mafia active in this area.
Alok Ranjan, president of UP IAS officers association, told reporters today that the association has put forth its demand before chief minister Akhilesh Yadav.
The association has also offered a high-level inquiry into any "mistake" that may have been done by Nagpal while going to demolish the wall of a religious shrine.
Nagpal, who had clamped down on illegal mining and resolutely taken head on the powerful sand mafia in Uttar Pradesh, was suspended barely 10 months after she got her first posting in the State.
A 2009-batch IAS officer, she was posted as Sub-Divisional Magistrate (SDM) of Gautam Budh Nagar in September last year.
The 28-year-old lady was penalised ostensibly for the demolition of a wall at a disputed place of worship.
"It is an administrative decision. She had ordered demolition of the wall at a place of worship," Chief Minister Akhilesh Yadav said in a post on Sunday on micro-blogging site twitter.
Slamming the SP government, Opposition parties alleged that the suspension order was made under pressure from the mining mafia.
Reacting sharply to the SDM's suspension, BJP leader Kalraj Mishra said that the action of the State Government showed "it is not liking those officers who are leading drives against the mafia".
"What mistake has she made?... It is not understood. But it is felt that she (Durga Shakti) was suspended under the influence of the mafia," he said.
A senior official said, "Durga Shakti Nagpal, the 2009-batch IAS officer posted as SDM (Sadar) of GB Nagar, (was) suspended late on Saturday by the Uttar Pradesh Government after a dispute related to a religious place," a senior official said here.
Ms. Nagpal had led a crackdown on unauthorised mining in the district and got over two dozen FIRs registered against those involved in illegally removing sand.
Special flying squads were formed by her to stop the raging menace along the Yamuna and Hindon rivers in western U.P.
Only last week the officer had asserted that there will be no let-up in the fight against unauthorised dredgers.
"The entire district has been affected and illegal mining has become a huge problem. The stakes are too high and those involved get huge monetary returns. The act could lead to serious environmental issues and, therefore, needs to be stopped," she had warned.
A Punjab cadre IAS officer, Ms. Nagpal had led the seizure of 24 dumpers engaged in illegal quarrying last week resulting in the arrest of 15 persons.
She came into the spotlight through her no-nonsense, iron-fist approach to stop the illegal operations of the sand mafia in the Noida region.
"We are conducting raids on a daily basis on sand mafia and their units.A list of illegal sand mining units has been prepared and action is being taken against them," she had warned.