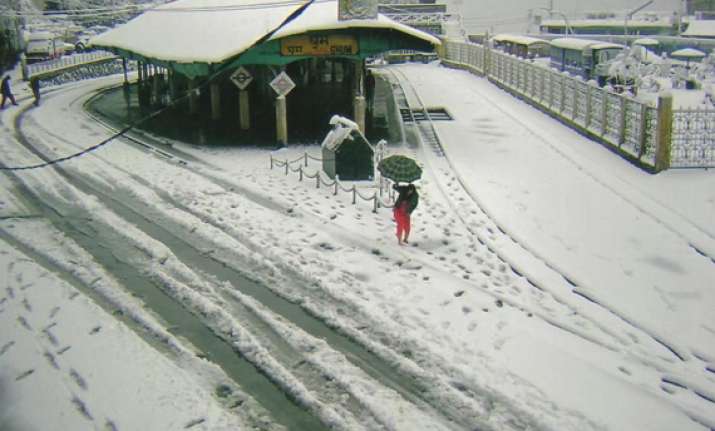 Darjeeling/Kolkata, Apr 6: Darjeeling experienced unseasonal snowfall and a hailstorm today as heavy rains lashed the metropolis and adjoining districts leaving five persons dead and disrupting early morning train services.
Lightning strikes left a man and a woman dead in Hingleganj and Bongaon in North 24 Parganas district, police sources said.
A man and a schoolgirl died in lightning strikes at Basanti and Gosaba in South 24 Parganas district, the sources said.
A 22-year-old truck driver was also killed by a thunderbolt as he was trying to fix a polythene sheet on the deck of his vehicle at Shalimar railyard in Howrah district, the sources said.
Darjeeling town, the Queen of the Hills, received 1inch to 1.5 inch snowfall between 11.15 am and 11.45 am after a hailstorm and rains in the last three days, district administration sources said.
Considered a very unusual phenomenon for April, the snowfall whitened rooftops and streets and delighted tourists. The weatherman said in Kolkata that more snow was expected.
A two-hour downpour accompanied by hail lashed the metropolis early morning flooding low-lying areas and affecting train services.
The weatherman said Alipore received 63.7 mm and Dumdum 46.2 mm of rain.
The rainfall was the result of a trough extending from Madhya Pradesh, Chhattisgarh and West Bengal to Bangladesh.
Train services in Sealdah south section and Howrah divisions were affected for some time due to the rain but no train was cancelled, railway sources said.
The met office forecast rainfall for the next 24 hours.