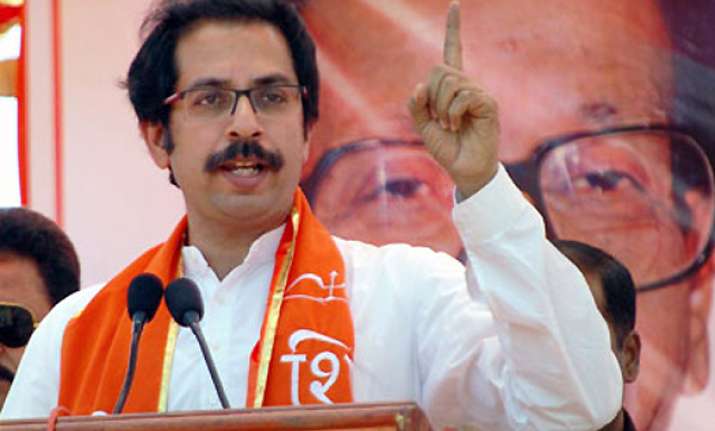 Mumbai, April 13: Shiv Sena working president Uddhav Thackeray joined the current controversy over Bihar Day celebrations in Mumbai, by demanding on Thursday that Maharashtra Day celebrations should now be held in Bihar.
Bihar Day will be celebrated on April 15 in Mumbai.
Uddhav Thackeray said, Bihar should also celebrate Maharashtra Day, just as Bihar Divas is celebrated in Mumbai.
"I will disclose our party's official stand on this issue only after all other parties do so. But, one thing that's sure is that if Bihar Divas is celebrated in Mumbai, then Maharashtra Day should also be celebrated in Bihar, on an equally grand scale," he said.
Thackeray's guarded reaction is being looked upon as a move to avoid supporting the stand taken by his arch-rival  Raj Thackeray, or hurting the sentiments of north Indians living in Mumbai.
Bihar chief minister Nitish Kumar is unfazed. he says no one can stop him from attending the Bihar Divas event  in Mumbai and that he does not require a visa to travel to Mumbai.
 "There is no hurdle for me to go there; can go to any part of the country; don't need any type of visa for that. I am going," Kumar said.
Meanwhile, at a rally at Malegaon, Raj Thackeray dared Nitish Kumar to celebrate Bihar Divas in Mumbai.
"At a time when I didn't say a thing, he talked about 'visa.' Now, it's my turn to talk. Kumar should dare to come to Mumbai to celebrate Bihar Divas. He will need a visa from the Marathi manoos to celebrate any programme here," he warned.
He appealed to home minister RR Patil to ask Kumar not to come to Mumbai on April 15.
"I am not against any state. But if he (Kumar) is given a chance today, everyone will come here and that too at the cost of the locals. If you want to celebrate Bihar Divas, celebrate it in Bihar, not in Maharashtra," he said. He ended on an ominous note. "If Kumar lands in Mumbai for a programme, just see what I do on April 15."