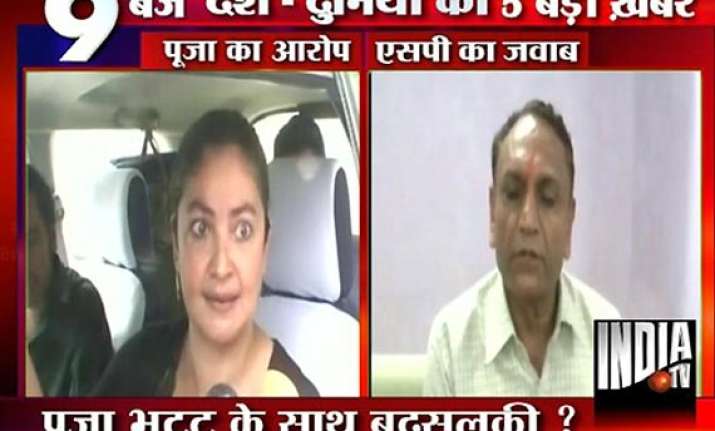 Udaipur (Rajasthan), Jul 21: A nasty incident took place today inside Udaipur Collectorate when the local SP Hariprasad Sharma abused Pooja Bhatt and her crew  during the shooting of the movie Bad starring Randeep Hooda and Richa Chadha.
The SP was enraged as the crew stopped him from entering his office in the Collectorate.
The SP immediately ordered his policemen to stop the shooting and the film unit director was taken into custody.
The film producer Pooja Bhatt rushed to the official residence of the Collector Vikas S. Bhale, after which the Collector spoke to the SP over phone. The SP complained that the film unit misbehaved with him.
The film crew showed the Collector's written permission saying nobody would be allowed entry inside the Collector because of the shooting on july 14, 20 and 21.
SP Hariprasad Sharma said, some of the unit members misbehaved with him when he tried to enter his office this morning.
"I told them that this is my office, and you have not taken permission for this. I have not abused anyone personally. I only said that you are interrupting Govt's work", the SP said.
Pooja Bhatt had a different version:  "The SP threatened us, abused us, it is very bad for tourism. If this can happen with me,  then I don't know what is happening with common woman.I was requesting him with folded hands, but he kept abusing me."
The shooting for the movie has been suspended.
Pooja Bhatt's film Bad is based on the life and times of serial killer Charles Sobhraj,  in which Randeep Hooda is playing the lead role.
Directed by Prawaal Raman, of Darna Mana Hai fame, the film also stars Richa Chadha, who shot to fame with Gangs of Wasseypur.
The central story of the film will revolve around how Sobhraj managd to escape from Delhi's high-security Tihar jail in 1986. The film director has bought the rights from the investigating officer Amod Kanth, who worked on this case.
Richa Chadha plays Mira, Sobhraj's love interest when he was in India. Character actor Adil Hussain plays Delhi police officer Amod Kanth's role.