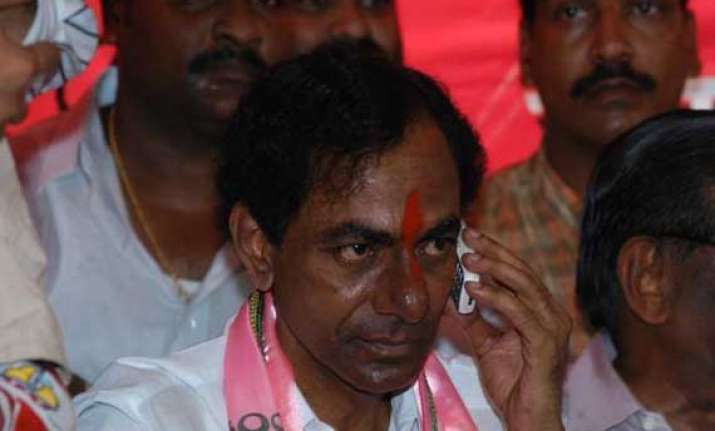 Hyderabad : The city Wednesday reverberated with slogans of "Jai Telangana" as TRS chief K. Chandrasekhara Rao arrived from Delhi to a hero's welcome by his supporters celebrating the formation of Telangana state.
Thousands of Telangana Rashra Samithi (TRS) activists poured out into the streets to welcome Rao with slogans, dances, display of Telangana culture, bursting of firecrackers and showering of petals from rooftops.
It took more than four hours for the massive victory procession to cover a distance of seven km from Begumpet airport to Telangana martyrs' memorial Gun Park near the assembly complex.
After paying tributes to the martyrs, he reached Telangana Bhavan, the TRS headquarters.
After landing at the Rajiv Gandhi International Airport at Shamsabad on the city outskirts after 4 p.m., the TRS leader left by a helicopter for the old airport at Begumpet. KCR, as he is popularly known, left in a massive victory procession to Gun Park.
Amid beating of drums, playing of songs and shouting of slogans, thousands of people - including women holding Bathukamma or flower stacks and party activists clad in traditional Telangana attire - welcomed KCR, who flashed the victory sign as he emerged from Begumpet airport.
Standing on a specially designed vehicle and flanked by senior party leaders, KCR greeted his supporters with folded hands.
He was garlanded by party activists at several points as the procession wound its way through the city.
Camels, horses and cultural artistes formed part of the arrangements at Begumpet to welcome KCR.
The TRS activists painted the city pink, the colour of its flag.
Huge cut-outs of KCR, hoardings, party flags, banners and other graffiti adorned traffic intersections and the road from Begumpet airport to Gun Park.
The procession brought the busy areas to a halt as police imposed traffic restrictions on roads joining the seven-km long procession route.
Thousands of TRS workers from Hyderabad and nine other districts of Telangana turned up to welcome KCR, who returned after nearly a month-long stay in Delhi to mobilise support for the Telangana statehood bill.
"KCR helped Telangana people achieve a 60-year-old dream of their own state," said a supporter who came from Nizamabad.
According to some TRS leaders, more than two lakh people took part in the procession. Hundreds of others were waiting at Gun Park to see and listen to KCR.
The bill for formation of Telangana state was passed by both houses of parliament last week.
Before leaving for Delhi last month, KCR had said he was leaving from Andhra Pradesh but would return in Telangana state.
KCR floated the TRS in 2001 to revive the movement for a separate state of Telangana. He went on an indefinite fast in 2009, forcing the central government to announce that the process for formation of Telangana would be initiated. The protests in Seemandhra forced the centre to hold consultations with all stakeholders.