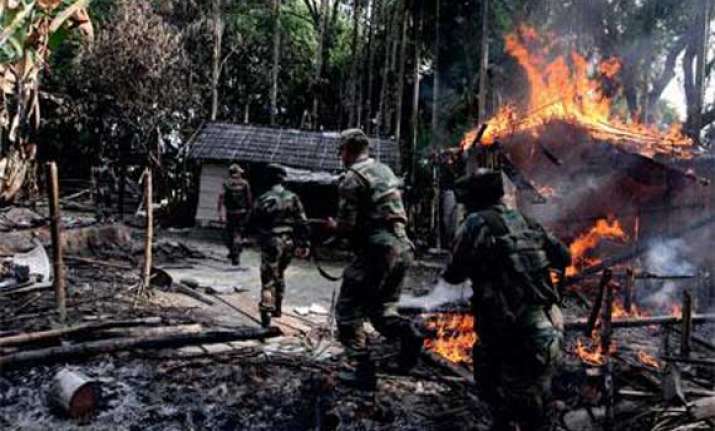 Guwahati: Nine more bodies were recovered today taking the toll to 32 in violence unleashed by NDFB-Songbijit militants in BTADC area in two of Assam's Bodoland Territorial Administration Districts since Thursady, as state government deciding that NIA would determine those responsible for the mayhem.
The  nine bodies, including four children and two women, were recovered from Khagrabari village under Salbari sub-division adjacent to the Manas National Park in Baksa district, official sources said.
The mayhem started on Thursday when heavily armed NDFB-S militants shot dead three members of a family, near Ananda Bazar area in the same district.
This was followed by firing by insurgents at Balapara-I village in neighbouring Kokrajhar district yesterday which left eight persons dead and several others injured.
Last night, 12 bullet-riddled bodies, including those of five women and a child, were recovered from Nankekhadrabari and Nayanguri villages in Baksa district where nearly 100 houses and a wooden bridge were set ablaze by the ultras.  Police fired in the air after a mob armed with spears and sticks tried to set ablaze a forest range office at Basbari in Baksa district this morning, the sources said.
This led hundreds of people to flee their homes with some taking shelter in two relief camps.
Of the four districts in the BTAD Baksa, Kokrajhar Udalguri and Chirang, the first two were affected.  Chief Minister Tarun Gogoi who chaired a cabinet meeting decided to hand over investigation to the National Investigation Agency to find those responsible for the violence.
"Let the NIA investigate who is involved. None will be spared if found responsible for the violence", Gogoi told reporters after the meeting here.