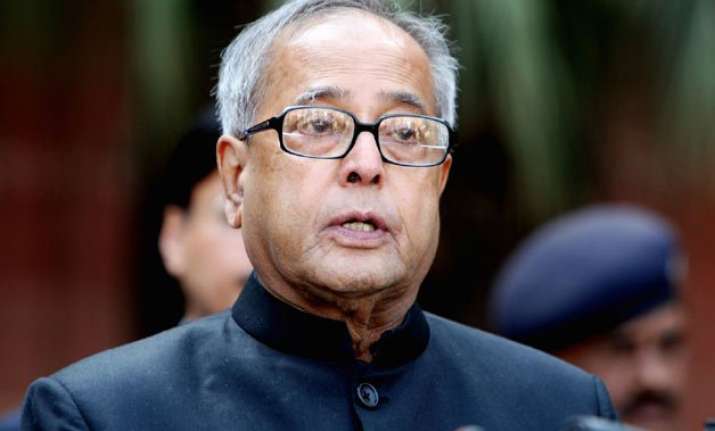 New Delhi: Just ten days after speaking on the growing intolerance in India, President Pranab Mukherjee on Monday reiterated his stand and expressed apprehension about whether tolerance and acceptance of dissent were on the wane in the country.
While addressing a gathering in Birbhum district of West Bengal during a function organized by a local weekly newspaper and a cultural organization, the President reminded the audience of the teachings of Shri Ramakrishna Paramhansa 'Jato Mat Tato Path' "As there are a number of beliefs, there are a number of ways".
The President said that humanism and pluralism should not be abandoned at any cost and hoped that divisive forces will be eliminated.
Less than a fortnight ago against the backdrop of Dadri lynching, the President made a strong appeal for maintaining the core civilisational values of diversity, tolerance and plurality have kept India united for centuries which he said cannot be wasted.
The veteran politician, who entered Rashtrapati  Bhavan in 2012  said Indian civilisation has survived for 5000 years because of its tolerance and its acceptance of dissent and differences. "A large number of languages, 1600 dialects and 7 religions coexist in India. We have a Constitution that accommodates all these differences," the President said.
The President's strong condemnation came on a day when an independent MLA from Jammu and Kashmir Sheikh Abdul Rashid was the target of a fringe Hindu outfit which threw ink and mobil oil on him at the Press Club in Delhi protesting against the beef party he held in Srinagar earlier this month. He was also beaten up in the state assembly by BJP MLAs.
Greeting people on the eve of Durga Puja celebrations, Mukherjee expressed the hope that "Mahamaya - the combination of all positive forces would eliminate the Asuras or divisive forces."
In the protest of growing tolerance against dissent, more than 40 writers have returned their Sahitya Akademi Awards in a last few weeks. The writers have sighted Prime Minister's Narendra Modi and Akademi's silence on major issues suc as the murder of rationalists and Dadri lynching.