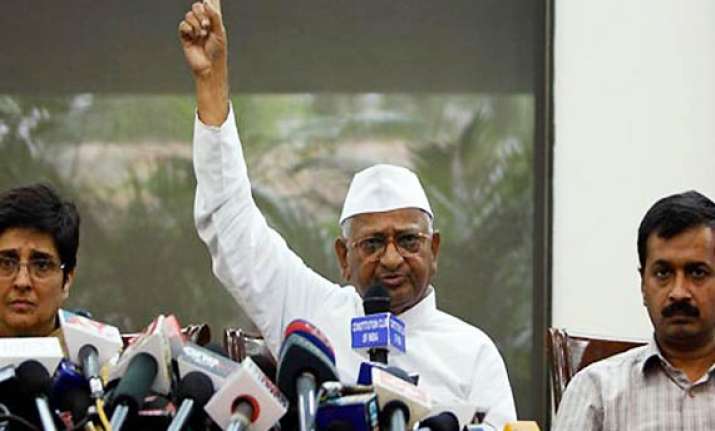 Ralegan Siddhi/New Delhi, Dec 21: Keeping up the heat, Team Anna today attacked the government for excluding CBI out of Lokpal's ambit, saying it "totally destroys" the anti-corruption mechanism in the country by not giving the investigating arm to the ombudsman. 

"If the CBI is outside, then how will the Lokpal be strong? This system will save corrupt politicians. If CBI comes under Lokpal then (Home Minister) P Chidambaram will be in jail. You are saving corrupt politicians and say it is a strong Lokpal," Hazare told reporters in Ralegan Siddhi.

"It is cheating people who will teach them a lesson," he said adding he will campaign against the UPA in Uttar Pradesh and other four states going to polls early next year. 

Team Anna member Arvind Kejriwal said the new bill will do "more harm than doing good" to the existing anti-graft machinery.

Another member Justice Santosh Hegde said there was some "ego problem" with government in accepting certain suggestions in Jan Lokpal bill while Kiran Bedi claimed that the agency will remain under government control till immunity is given for past acts of corruption by political parties. 

"The Lokpal Bill will not have even investigating powers.  You will complain to Lokpal but it cannot investigate. What Lokpal is the government setting up? It means the government is cheating people," Kejriwal said.

Hegde said with CBI out of Lokpal's control, what it does will be like departmental enquiry. "This is certainly unacceptable," he said. Bedi said on micro-blogging site Twitter, "The bill is not path breaking but breaking the path. Thank you Sonia G."

"It appears till a provision for immunity is guaranteed for past acts of corruption, political parties will ensure CBI remains in government control," she said, adding it was now 'Save CBI' campaign.