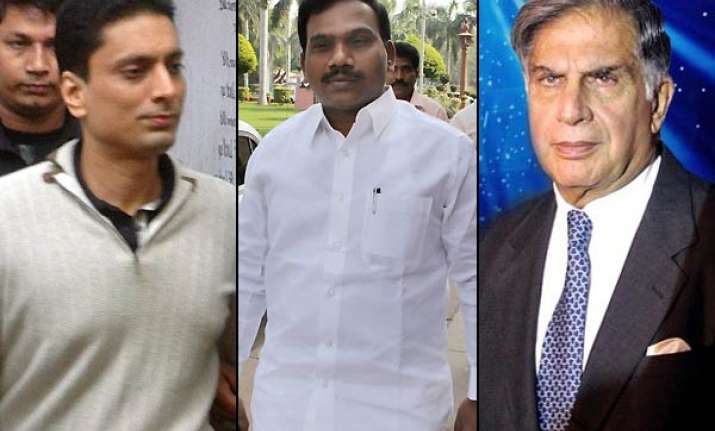 New Delhi, Aug 3 : Swan Telecom Promoter Shahid Usman Balwa on Tuesday insinuated that the Tatas had paid off former telecom minister A Raja Rs 20 crore, reports Times of India.

He claimed that the Tata group "donated" Rs 20 crore to a medical college-cum-hospital in Perambalur in Tamil Nadu at the request of Raja.

Balwa also questioned the CBI's decision to not probe the Tata group in the 2G scam.

Referring to a letter written by Ratan Tata to Raja on September 15, 2009 regarding the donation, Balwa's counsel Majeed Memon asked why the agency was not probing it.

"On September 15, 2009 Ratan Tata wrote to Raja acknowledging the receipt of his letter for donation and also mentioned that Tatas have never made a grant of this magnitude to an external person. However, the grant of Rs 20 crore is made to a hospital in Perambalur as a special case."

Memon added, "What was this special case which Ratan Tata referred to and why is it not being probed?" He added that if Balwa had to give an illegal gratification to Raja then he too could have made donations instead of following the alleged circuitous route.

"Making a donation as a special case is the easiest way for a person to receive favour. If I were to give illegal gratification of Rs 200 crore, as alleged, for favours from Raja, why would I adopt circuitous route where the money finally does not even reach him. I could have also made a cheque towards charity," he said.

The CBI chargesheet has said bribe money of Rs 200 crore had been channeled from Balwa's DB Realty to DMK-run Kalaignar TV through a "circuitous route" via Cineyug Films and Kusegaon Fruits and Vegetables Pvt Ltd.

Balwa also rubbished the CBI's allegations that only he had prior information about pre-requisites for getting the 2G licenses.

"It was not the case (as projected by CBI) that only Swan Telecom was there with the DD of Rs 1659 crore on that day (January 10, 2008) to receive letters of intent. If that was true, then 13 companies in all would not have been there and ready. How is it that all the 13 companies have not been charged?" Memon asked.

Memon alleged that major telecom players like Tata and Idea cellular were also ready with demand drafts in advance.

CBI's plea that Balwa had prior information and hence had the draft ready in November-December 2007 was "incorrect", he said, adding Balwa did so only on the basis of market speculation.

Asking the court to take a "judicial note" of statements of the Prime Minister and Telecom Minister Kapil Sibbal that the government did not incur any loss in the award of spectrum, Memon said, "It is interesting to consider that the loss is alleged to have been caused to the government and the government does not say so and yet CBI presents that there is loss which necessitates criminal action. On this account alone the entire case of prosecution falls flat on the ground."

Balwa's counsel also sought a stay on the trial "in the interest of justice" on the ground that an inquiry of the JPC on the issue was going on and there were chances of CBI and the JPC reaching different conclusions.