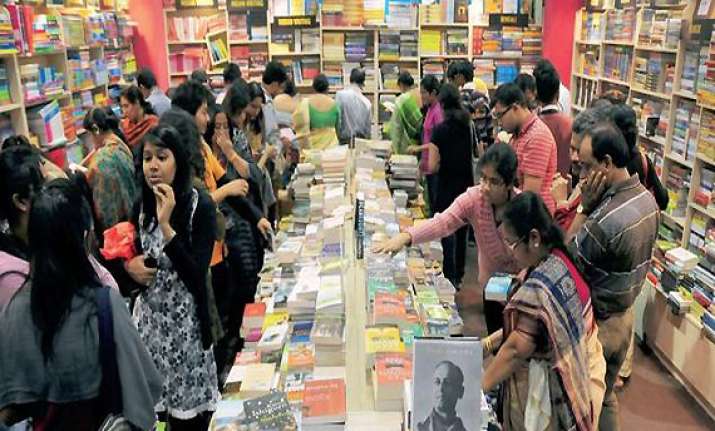 Kolkata, Feb 2: The seventh part of Taslima Nareen's autobiography 'Nirbasan' (Exile) is selling like hot cakes at the Kolkata Book Fair, a day after it was released amidst controversy.

"We have ordered a reprint. The first print of 1000 copies is sold out. We are overwhelmed with the response," publisher Shibani Mukherji of the People's Book Society said. Bookstores and stalls at the fair are already running out of stock.

"Women, in particular, are making a beeline for our stall," the publisher said insisting that the contents of the memoirs had nothing controversial.

The latest installment in the series of her memoirs, 'Nirbasan' gives an account of the controversial Bangladeshi author's plight following her expulsion from her adopted home of Kolkata in November 2007.

Written in Bengali, the new book traces the circumstances in which she was bundled out by the government to New Delhi and the resultant mental trauma and insecurity of not having a home anywhere in the world.

"It talks about the period 2007-08 of my life beginning from the attack on me during a book release function at Hyderabad. Later on, chaos was created in Kolkata and I was asked to leave the city," Nasreen told PTI from New Delhi.

Taslima Nasreen today claimed that three Bengali directors who had planned films on her life and novels had now backtracked.

"The contracts were signed. But the directors have suddenly fallen silent," Taslima told PTI from New Delhi on a proposed biopic on her life and films on two novels 'Shodh' (Revenge) and 'Nimontron' (Invitation).

"I do not know what has happened to them. Who has asked them not to make the films?" she questioned, hinting that the directors may have withdrawn apparently under pressure from fundamentalists.

On the release yesterday of the seventh part of her autobiography 'Nirbasan' (Exile) by her publisher People's Book Society after the official release was cancelled in the wake of protests by right wing groups, Taslima said, "The issue is not the book at all. Taslima is the issue.

"Neither the fundamentalists nor those in the government have read the book. Even if someone organises a 'Taslima Flower Show', they will demand a ban," said the 49-year-old author who had to flee Bangladesh in 1994 after she was accused of hurting religious sentiments with her novel 'Lajja' (Shame).

On her wish to return to Kolkata, which she fondly calls her adopted home, the doctor-turned-author claimed she was earlier assured by some personalities close to the Trinamool Congress that she would be able to return after the new regime came to power.

"Political change has come to Bengal, but I am still waiting, wondering when I will be able to return to Kolkata.

"The CPI(M) sent me away, but the Trinamool Congress told me they will bring me back. I had high hopes. It's painful to stay like this," Taslima said.

She also pointed out that her columns in Bengali newspapers were also no longer published.

"My articles used to be published in many newspapers in Kolkata. Now there is a blackout on that too," she said expressing sorrow that the literary and intellectual community had not come forward in her support.

"Only some individuals support me now," Taslima said.

Yesterday's release of her book by Bengali author Nabarun Bhattacharya, son of writer and human rights activist Mahasveta Devi, in the presence of writer Ranjan Bandopadhyay amidst controversy has not dented her determination.

"This is not new to me. My books have been a bestseller since the eighties when I started writing. Now, I am all the more committed to the cause. This makes me more determined," she said.

After taking refuge in Europe for a decade, she stayed in Kolkata on a tourist visa from 2004. But the authorities whisked her away to an undisclosed location in New Delhi following protests.