Follow us on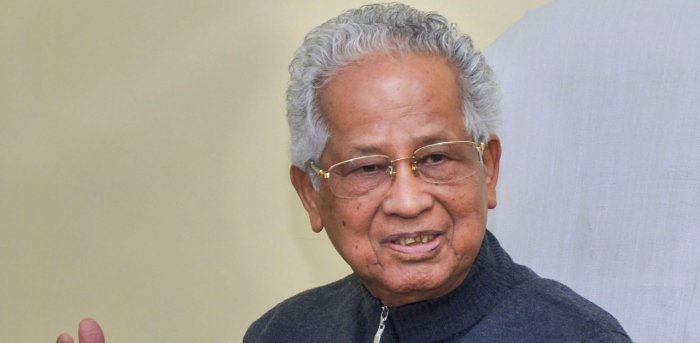 Former Assam Chief Minister Tarun Gogoi passed away on Monday in Guwahati at the age of 86. The veteran Congress leader was undergoing treatment at the Gauhati Medical College Hospital for post-COVID complications. Assam Chief Minister Sarbananda Sonowal deeply mourned the death of former CM Tarun Gogoi who breathed his last on Monday. In a statement, he said the people of Assam will always remember Gogoi's committed service and contributions to the state.
Prime Minister Narendra Modi expressed his condolences on the demise of the former Assam chief minister. "Shri Tarun Gogoi Ji was a popular leader and a veteran administrator, who had years of political experience in Assam as well as the Centre. Anguished by his passing away. My thoughts are with his family and supporters in this hour of sadness. Om Shanti."
Congress leader Rahul Gandhi said he will miss the three-time chief minister of Assam. "Shri Tarun Gogoi was a true Congress leader. He devoted his life to bringing all the people and communities of Assam together. For me, he was a great and wise teacher. I loved and respected him deeply. I will miss him. My love and condolences to Gaurav & the family," Gandhi tweeted. 
Rahul Gandhi's condolence message to Gaurav Gogoi on demise of Tarun Gogoi
"Dear Gaurav,
I am deeply saddened by the demise of your father. The nation and the party has lost a statesman whose vision and dedication transformed the lives of millions of people. His firm commitment to fighting divisiveness and bringing peace to Assam will be remembered.
His political journey is testament to his stature as a leader who shaped modern Assam. And as I told you when we spoke he touched many of us outside the state. I saw him as a mentor and teacher and will miss his profound understanding and deeply thought out perspective. He was a rare gem of a person and we loved him for that. He will continue to inspire many of us.
My thoughts, prayers and love are with you and your family in this difficult time.
Sincerely,
Rahul Gandhi"
Congress president Sonia Gandhi described former Assam chief minister Tarun Gogoi as one of the tallest leaders of the party who was admired and respected for his extraordinary wisdom, vision and ability as she condoled the demise of the veteran leader. The letter written by Congress President Sonia Gandhi to Gaurav Gogoi and family members of Tarun Gogoi.
Dear Gaurav,
It is with great grief that I learnt of the passing away of your beloved father.
Shri Tarun Gogoi was one of the tallest leaders of the Congress party, admired and respected for his extraordinary wisdom, vision and ability. With his long years of experience as an MLA, an MP, a Central Minister and Chief Minister of Assam, he was someone to whose unfailingly wise counsel and advice we could always turn to. I know in what great regard Smt Indira Gandhi and Shri Rajiv Gandhi held him. For me, his loss is also a deeply personal one -- I cannot forget the warmth and care he showed me on my many visits to Assam. During those visits, I saw how loved he was by all the many communities and people of Assam, how much he had done for them, and for their progress and welfare. No wonder he was Assam's most universally loved and venerated public figure and the longest-serving Chief Minister of the State.
 At this time of grief my thoughts are with you and your family. Your father's life was cut short by this cruel pandemic, but he leaves a precious and lasting legacy in the standards he set and in his immense contribution to national life. He is now relieved from his suffering, and at peace. The Congress party will always honour his memory.
With my deepest condolences.
Congress leader and former Prime Minister Manmohan Singh wrote to Tarun Gogoi's wife Dolly Gogoi that he is deeply shocked and saddened ny the untimely demise of his beloved husband.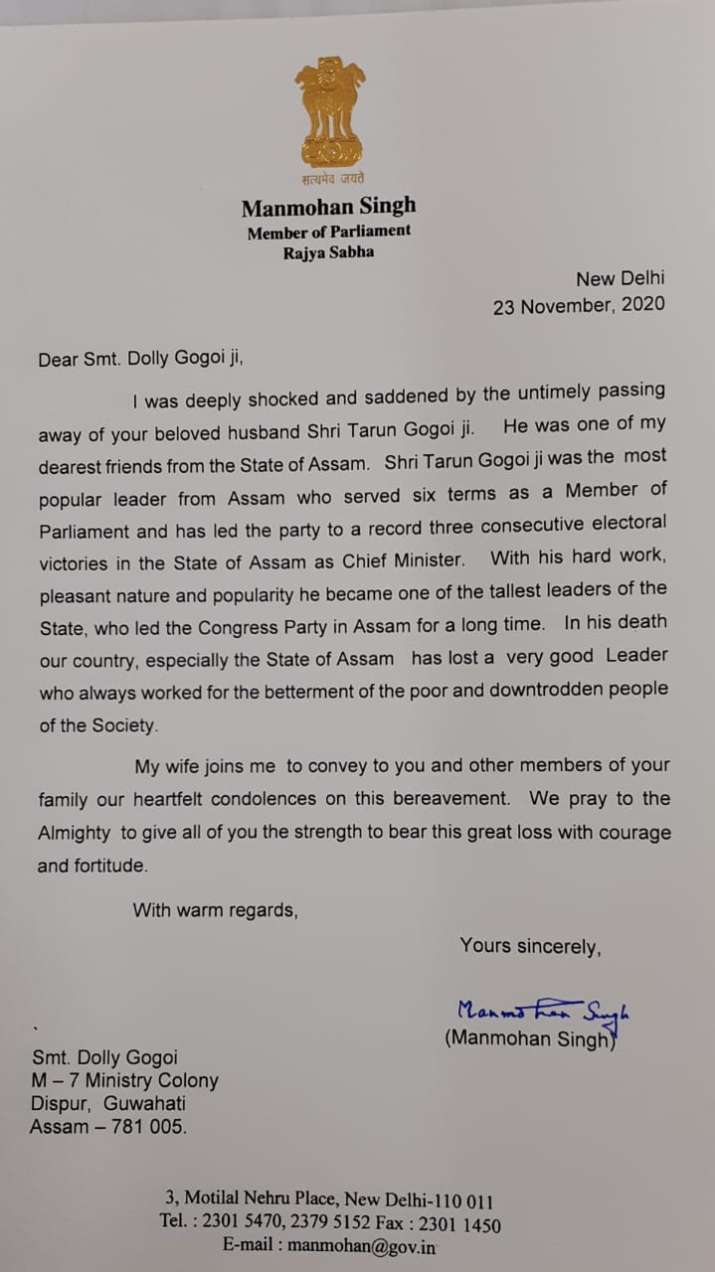 Arunachal Chief Minister Prema Khandu tweeted, "Saddened by passing away of former CM of Assam Shri tarun_gogoi Ji. My sincere condolences to the family. My thoughts and prayers with them in this hour of grief."
Delhi Mahila Congress chief Amrrita Dhawan expressed her condolences, "Sad to learn about the passing away of a veteran leader and former Chief Minister of Assam #TarunGogoi ji a man of utmost political understanding, he has been a strong voice of people of North East. My deepest condolences to GauravGogoiAsm ji, the entire family and his followers."
Former cabinet minister and Congress leader Anand Sharma wrote, "Saddened to hear about the demise of TarunGogoi ji, former Chief Minister of Assam, a veteran Congress leader, seasoned parliamentarian, efficient administrator and stalwart of North Eastern India who was committed to strengthening national unity and democracy.
Gujarat Congress in-charge Rajeev Satav tweeted, "I am pained by the demise of former Chief Minister of #Assam and Senior Congress leader Shri TarunGogoi ji. I extend my condolences to the bereaved family. His contributions towards not just Assam but the entire nation will always keep him immortal.
ALSO READ | Tarun Gogoi, former Assam CM, dies at 86