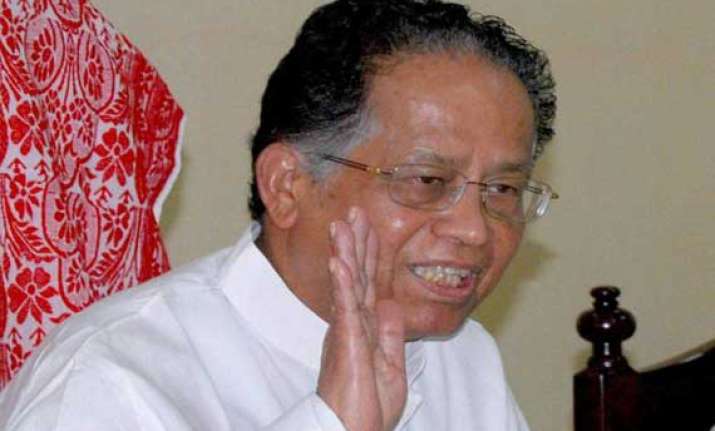 Guwahati: In the wake of SP Nityananda Goswami's death in an encounter, Assam Chief Minister Tarun Gogoi today warned DCs and SPs of the state that there will be zero tolerance for poor handling of law and order situation.
In a video conference with all the Deputy Commissioners and Superintendents of Police of the state, Gogoi said "No laxity will be tolerated for inept handling of law and order.
The police and administrative officials will have to handle a situation adroitly without allowing it to drift."
Goswami, the Superintendent of Hamren police district, was leading an operation on June 5 against terrorist group UPLA in the remote Rongthang forest area when they came face to face with a large group of the ultras, who opened fire and killed him along with his PSO Ratul Nunisa.
Driving home the point that development was an important mechanism towards improving law and order, the Chief Minister asked the DCs and SPs to play a proactive role in this direction.
"The wheels of development have to move on and it should not be allowed to come to a halt because of law and order problem. Development activities have to be accorded top priority and the benefits of welfare schemes launched by the government have to percolate down to all sections of society," he added.
Calling for an end to the "bandh culture", Gogoi directed the officials to handle bandhs, road and rail blockades strictly "as they cause lot of hardships and misery to the people and slow down the economy".
The Chief Minister also requested the officers to prioritise activities providing employment opportunities and ensuring fruitful engagement of the youth to wean them away from unlawful activities.
Other core issues for the government, Gogoi said, were providing drinking water and sanitation, addressing the needs of education and malnutrition and to check child trafficking.
He also advocated effective measures to free government land, forest land and water bodies from encroachment and to prevent fresh encroachment.
Gogoi complimented the DCs and SPs of Baksa, Kokrajhar and Goalpara districts for their works and urged others to work harder for the benefit of the people.
The Chief Minister emphasised that officers should adopt a result-oriented approach and cautioned them they would be judged by their performances.
During the three-hour long interaction, Gogoi underscored the need for the administration to understand the aspirations of the local people and maintain cordial relations with them through people-friendly mechanisms.
The video conference was also attended by Chief Secretary Jitesh Khosla, Director General of Police Khagen Sarma, Principal Secretary to CM MGVK Bhanu among others.