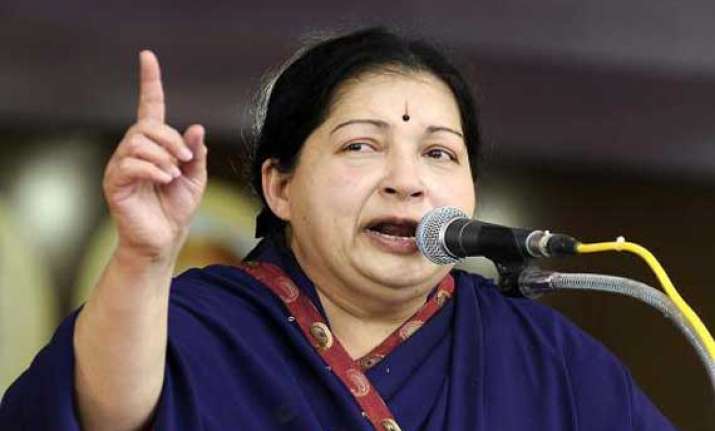 Pollachi (Tamil Nadu) :  Tamil Nadu Chief Minister J. Jayalalithaa Tuesday said industrialists from Coimbatore in the state have decided not to invest in Karnataka despite an invitation from her Karnataka counterpart.
Addressing an election rally here, around 510 km from Chennai, the AIADMK general secretary said: "Karnataka chief minister (Siddaramaiah) invited industrialists to start their units in Chamarajanagar. Industrialists in Coimbatore attended that meeting."
She said nothing was decided as to who would set up a factory and the extent of land to be allotted.
Stating that there was no infrastructure in Chamarajanagar for industries, she said industrialists who attended the investors meet held earlier this year later said they went just because they were invited.
Jayalalithaa said it was the DMK which was spreading false information that industrialists from Tamil Nadu were migrating to Karnataka.
Coming down heavily on the DMK on the 2G spectrum allocation scam, Jayalalithaa wondered whether its chief M. Karunanidhi would explain how Rs.214 crore came to the TV channel company in which his daughter and wife are shareholders.
Jayalalithaa said it was decided to sell spectrum like movie tickets and attempts to mask that will not succeed.
Referring to Karunanidhi's speech at a rally where he said his party would give general amnesty if the Congress agrees to become secular, she wondered whether the Congress was communal and why the DMK wants to support it.