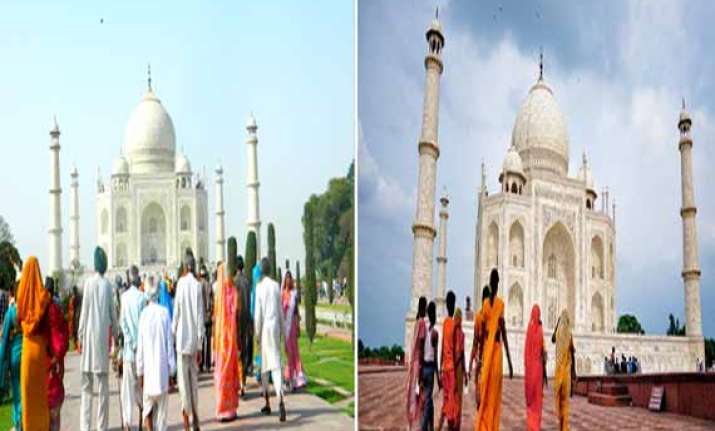 Agra: India's tourism icon and a symbol of earthly love, the 17th century white marble mausoleum, the Taj Mahal, is a victim of both nature and man. If the monument looks sick and pale to visitors, the reason is the dry and heavily polluted Yamuna that once formed an integral part of the Taj Mahal complex.
Standing tall in the scorching summer sun, the monument of love is enveloped in yellowish sand from the neighbouring Rajasthan desert.
Any discernible visitor can tell that the summer heat is taking its toll on the Taj Mahal, the timeless monument of love, blasted by sand from the dry Yamuna bed and the dust-laden winds from the Rajasthan desert.
The gaps left by illegal mining in the Aravali ranges have raised the SPM (suspended particulate matter) in Agra.
Against a standard of 100 microns per cubic metre, it remains as high as 300, touching 500 during summer months.
The problem is that sandy particles rub against the monument and leave pock marks that make the surface rough, as has been pointed out by many studies.