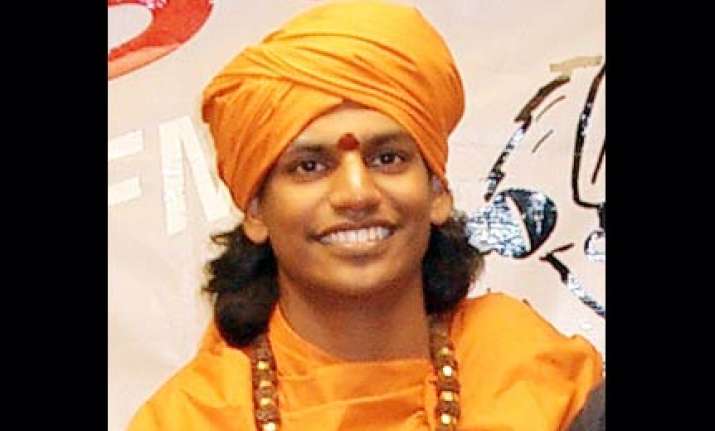 Facing a series of criminal charges, including rape and unnatural sex, self-styled godman Swami Nityananda on Tuesday  said he is quitting as head of his ashram and its trusts to lead a life of "spiritual seclusion". 
Conveying his decision in a video message to his followers on his website three weeks after video footage of his alleged sleazy activities were shown on TV, the 32-year old Nityananda said he would return whenever required and talk about "...my conduct with a clean heart and clean soul and also in a less prejudiced atmosphere." 
Nityananda, whose whereabouts are not known, said he took the decision after consultations with leading acharyas of Hindu Dharma at the Haridwar Kumbh Mela. 
The self-styled godman announced his decision days after the Karnataka High Court rejected his plea for anticipatory bail and quashing of the cases registered against him. 
Nityananda, who also has overseas followers, has been booked under various sections of IPC relating to deliberate and malicious acts, intended to outrage religious feelings of any class by insulting its religious beliefs, rape, unnatural sex, cheating, criminal intimidation and criminal conspiracy. "I have decided to live a life of spiritual seclusion, for some indefinite time...I am resigning as the head of the ashram and from all the trusts associated with it," he said. 
He said he had briefed the Acharyas about the allegations against him and explained "what is fact and what is fiction. The cases were slapped against Nityananda first by Tamil Nadu police, who transferred them to their counterparts in Karnataka, where his ashram is headquartered near Bidadi. Nityananda had said that portions of the video footage showing him with a Tamil actress had been morphed. 
In his petition in the High Court, he alleged that one of his former disciples and driver Kurup Lenin (who has claimed to have leaked the sleaze video) conspired to defame him and his ashram by levelling such charges against him. Karnataka CID police yesterday sought information from "victims" of the godman against whom it has launched a probe. PTI