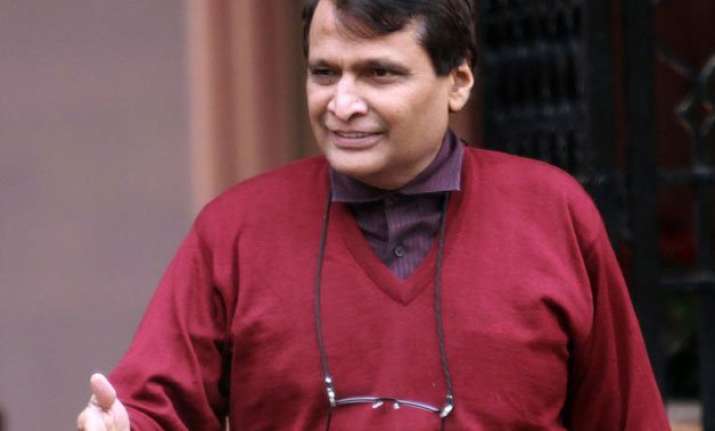 New Delhi: The one question troubling most Indian minds a day ahead of the Railway Budget is whether Suresh Prabhu will opt for an increase in ticket fares or will he decide against it.
While the answer to this question will only be clear when Prabhu rises to present his second rail budget tomorrow, the dilemma that the cash-strapped railways faces over fares – both passenger and freight – is reflected in its shrinking margins, leaving little room for modernisation, upgrade and safety.
While leaving fares unchanged will definitely cheer the millions of passengers that take to the mass transporter every day, increasing passenger and freight is vital to the health of the railways which is still struggling to find alternative models of revenue generation.
In the previous budget, the minister spared passengers from a fare hike, but freight rates were increased by 2.1 percent to 10 percent, even on commodities such as grain, pulses, urea and coal. And in July 2014, the hikes amounted to 15 percent in passenger fares and 6.5 percent in freight.
Industry chambers, meanwhile, have advocated a hike in passenger fares this time.
"There is lack of political will to raise passenger fares, though the reluctance is not shared by passengers who will be willing to pay more if it is accompanied by better services like timely arrival of trains, cleanliness at stations, safety and improvement in food," Assocham said.
Introduction of new trains without much capacity addition in terms of new lines has become a norm. The issue that Prabhu will have to tackle is to improve the operating ratio that spells out how much of the revenue generated is spent on day-to-day operations.
In the last budget, the minister had targeted to bring the operating ratio down to 88.5 percent, or the lowest in nine years, from an unsustainable level of 93.6 percent in 2013-14 and 91.8 percent for 2014-15. But globally, a 75-80 percent or lower is seen as a healthy benchmark.
The network length of Indian Railways has also not expanded in the requisite manner. It has increased just 0.06 times since 1989-90, but passenger and freight traffic has increased 3.3 times and 2.2 times, respectively. The average train speed of 25 km per hour for freight and 70 km per hour for passengers is also among the lowest globally.
The railways will also have to contend with a 40 percent (Rs.320 billion) jump in wages. Experts have, accordingly, called for some newer approaches to enable the Indian Railways to raise money and fund its development.
"The sheer number of land parcels held by Indian Railways across the country makes this entity an important stakeholder in transit-oriented development," said Anuj Puri, chairman of JLL India, referring to mixed-use residential and commercial area with access to public transport.
"This budget we expect the railway minister to look at monetising railways' land parcels in urban areas through transit-oriented development -- in order to boost cities' liveability quotient and modernisation of their skylines," Puri said.
Some of the other issues that stakeholders expect Prabhu to address include introduction of more wagons, development of physical infrastructure, fine-tuning the public-private partnership model, improvement of passenger amenities and making rail transportation competitive.
India boasts one of the oldest and the largest railroad networks in the world, ferrying some 23 million people, or a population the size of Australia, as also 2.65 million tonnes of goods on its coaches, each day.
It serves from 7,172 stations via 12,617 passenger and 7,421 freight trains on a track network spanning Baramulla in the Himalayan foothills of Kashmir to the southern tip of Kanyakumari in Tamil Nadu, and from Naharlagun in Arunachal Pradesh to the port town of Okha in Gujarat.
(With IANS inputs)