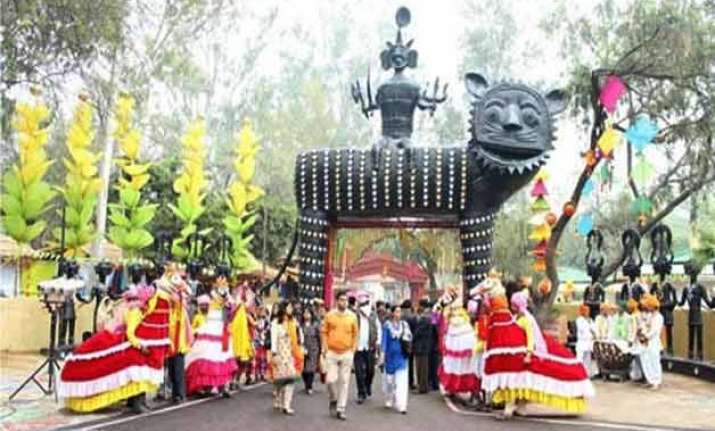 New Delhi: Chhattisgarh is the theme state of the 29th Surajkund International Crafts Mela which begins tomorrow and will see participation of 18 countries.  The event will be inaugurated tomorrow by Haryana Chief Minister Manohar Lal in the presence of Chhatisgarh Chief Minister Raman Singh, Union Ministers Mahesh Sharma and Krishan Pal and others, an official statement released here said.
Chhattisgarh will be showcasing its unique cultural and historical heritage in an impressive manner. The state will present its tribal heritage and culture, which is still found well-preserved in the forests of Bastar.  The artistes from Chhattisgarh will put up a vibrant show with folk dances namely Panthi, Rawat Nacha Pandwani, Chaitra, Kaksar, Saila and Soowa.
Lebanon, the 'Partner Nation' of the Mela this year, will unveil its ancient heritage of creating crafts in style.  The craftspersons, cultural troupes and master chefs from the Mediterranean nation will exhibit their skills to enthral the visitors during the mela.
Many new initiatives have been undertaken for this year's event. A free mobile application 'Surajkund Mela' has also been launched for smartphones and online ticketing. Entry tickets will also be available at 22 Delhi Metro stations.  About 15 countries from Europe and Africa, including SAARC countries participated in the event last year.  
The 18 countries participating in this year's event include: Lebanon, Sri Lanka, Nepal, Afghanistan and Bangladesh; Armenia, Azerbaijan, Russia, Belarus, Kyrgyzstan, Kazakhstan, Uzbekistan, Georgia, Tajikistan, Kuwait, Qatar, Thailand, Uganda and Syria.
The mela will be open til February 15 from 10.30 am-8.30 pm.